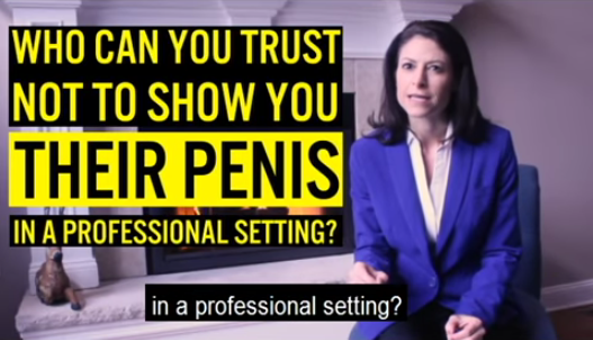 Dana Nessel, a Democrat running to be Michigan's Attorney General, has a simple pitch: She does not have a penis.
And in the wake of myriad recent high-profile sexual harassment allegations involving men in politics and the media — including Michigan Democratic Congressman John Conyers, Alabama Senate candidate Roy Moore, and President Donald Trump — Nessel sees her womanhood as a major asset.
"If the last few weeks have taught us anything, it's that we need more women in positions of power, not less," she says in a new online ad. "So when you're choosing Michigan's next Attorney General, ask yourself this: Who can you trust most not to show you their penis in a professional setting? Is it the candidate who doesn't have a penis? I'd say so."
The ad comes amid trepidation within her party and in the media regarding the viability of a potential all-female ticket in Michigan in 2018. In the ad, Nessel blasts those concerns.
"Some people will tell you I can't be the Democratic nominee for Attorney General here in Michigan because, 'We can't have an all female ticket for statewide office in 2018,'" Nessel says, referencing campaigns from incumbent Sen. Debbie Stabenow and gubernatorial candidate Gretchen Whitmer. "Pundits and insiders are asking, 'Can we afford to have a female Governor, a female Attorney General, and a female Secretary of State?' Well, I read the news, and I bet you do too. It has me wondering: Can we afford not to?"
"Yes, I'm a woman," she says. "That's not a liability, that's an asset."
As an attorney, Nessel is best-known for challenging Michigan's same-sex couple adoption ban in the landmark
DeBoer v. Snyder
lawsuit. Nessel is openly gay.
Watch the ad below: