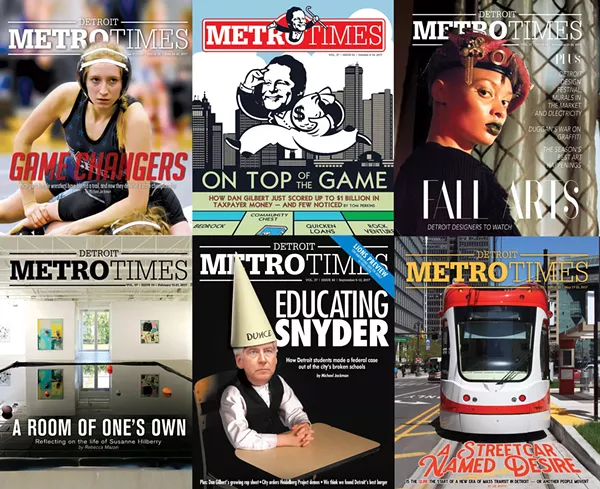 Metro Times
earned plenty of kudos during the annual Society of Professional Journalists awards Detroit chapter ceremony on Wednesday night.
A number of awards went to
MT
's dining editor Tom Perkins — and were not limited to his coverage of Detroit's food scene.
Perkins earned first place in print, Class A: Open Government Reporting for his ongoing coverage of the scandal over Ypsilanti's "International Village" real estate development. (Since Perkins
first reported
on contradicting sources of funding for a trip city officials took to China, the development has been stalled, an independent law firm
has recommended criminal charges
, and Ypsi city council has
handed the investigation
into wrongdoing to Michigan State Police.)
Perkins also won third place in print, Class A: Consumer/Watchdog Reporting for his story on why some took offense to the name of the Detroit restaurant
formerly known as Katoi
. (Citing the report, the restauranteurs later rebranded as "Takoi.")
Perkins also earned an honorable mention for print, Class A: Features Reporting for his behind-the-scenes story on
Sterling's Old Style BBQ
in northwest Detroit.
Metro Times
also earned a number of awards in the "Explanatory Story" category.
Michael Jackman won third place print, Class A for his cover story,
"Educating Snyder."
Violet Ikonomova earned an honorable mention for her look into Detroit Mayor Mike Duggan's
war on graffiti
. And Lee DeVito (that's me) earned an honorable mention for a cover story on Detroit's QLine,
"A streetcar named desire."
For personality profiles, former
MT
arts editor Rebecca Mazzei earned second place, print, Class A for
"A room of one's own,"
her look back at the life of the late art maven Susanne Hilberry. And DeVito (hi) earned third place for a profile on
Rehab Addict host Nicole Curtis
.
In a twist of fate, Jackman wound up walking up to accept the award for second place, print, class A: Sports Reporting with his girlfriend, Rachel Timlin, who took the photos for
"Game changers,"
his deep dive into the world of girls' and women's' wrestling. (Timlin, a former high school wrestler, wore her old wrestling sneakers to celebrate the occasion.)
Lastly, former
MT
designer Robert "Nix" Nixon earned first place print, class A: Cover Design for
our parody
of Dan Gilbert as Mr. Monopoly.
As always, thanks for reading!
Stay on top of Detroit news and views. Sign up for our weekly issue newsletter delivered each Wednesday.