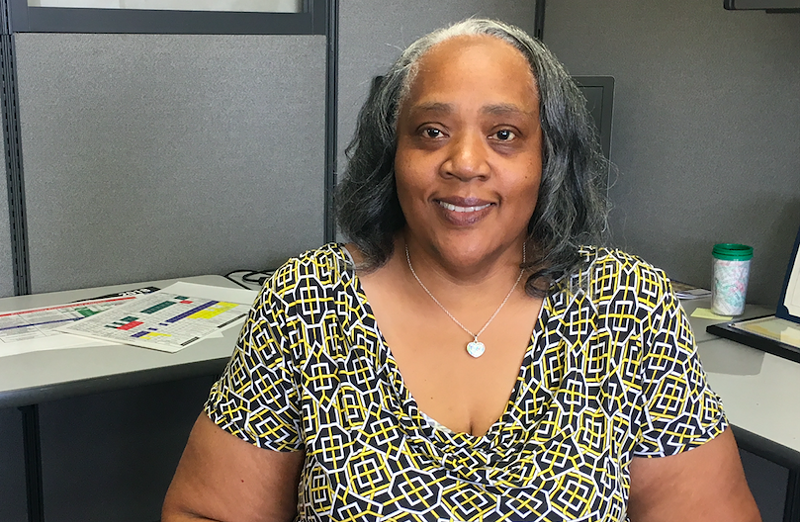 Betty Jean Alexander was so convinced she had no chance of winning the primary election against Democratic Sen. David Knezek that she went to bed Tuesday night before the race was called. In the morning, she had to rush out the door before the local TV news could announce the results for Senate District 5. It wasn't until Alexander was on the bus to work that she got a call from her sister telling her she'd won.
"I was completely shocked," the virtually unknown candidate told
Metro Times
Saturday, in one of her first media interviews since defeating a leading figure in Michigan Democratic politics.
Alexander — a Detroiter and 53-year-old single mother of two — ran at the behest of her brother-in-law, Detroit school board member LaMar Lemmons, who was angry with Knezek's lack of support for the board's position on a $720 million bill package that led to the district's restructuring. Recognizing that a no-name black candidate could potentially defeat a white incumbent
in the predominately black district
, Lemmons recruited an at-first reluctant Alexander in what he says was a "Hail Mary." Beyond an initial $100 filing fee, he and Alexander spent no money on the race, campaigning with only a limited phone banking effort that relied on help from volunteers.
Saturday, the mystery candidate characterized as "shy" and "anxious" came out of the shadows, granting interviews to only
Metro Times
and one other media outlet. In a nearly hour-long discussion, Alexander introduced herself to the world as a working-class woman — she's currently a clerical specialist for the Wayne County Clerk — who has struggled to provide for two daughters, ages 16 and 22.
Despite her initial reluctance to enter the race, Alexander says she wants to be a state senator to help people facing difficulties that mirror hers: $400-per-month car insurance rates, jobs paying so little that government assistance is a necessity.
"There needs to be somebody like me stating how a real person is struggling, trying to make ends meet, [who can] make some other changes regarding things I know first hand," she says.
Alexander says she plans to push for a $16 minimum wage, an end to water shutoffs, and auto insurance reform that prohibits insurers from setting rates based on non-driving factors.
While she concedes she has only a limited understanding of the legislative process, Alexander says she intends to rely on Lemmons, a former state representative, should she be elected to the
solidly blue
district. (A quick note on her would-be adviser's political leanings: Lemmons describes himself as a "Bernie-crat" who supported Abdul El-Sayed for governor).
As Alexander points out, lawmaking can be learned. But she says what is most important is that "I'm not in anybody's pocket."
"There should be more people like me actually at the table, instead of all these political people who are corrupt and not helping the people," she says. "I want to be for the people."
Portions of our interview with the candidate are transcribed below.
On what she hopes to accomplish in state Senate:
"The education … I would like more funding to have smaller class sizes, get more teachers in."
"I also feel the insurance is ridiculous. Everyone should have insurance at the same rate — it shouldn't matter where you live, what zip code, if you're in Detroit, a suburb, whatever. Right now insurance is basically another car note, so I see why a lot of people don't have it, because they're like me. It's like, OK I'm going to have insurance … but then you get your insurance and it's like, well now I'm not going to be able to pay my DTE."
(She says she pays more than $400 a month for insurance in Detroit's 48227 zip code.)
"I want people to have clean and affordable water, no one should be able to have their water shut off. You know, that's a right, you should have a right to water.
"And the wages. You know, people are quick to put out my business, about oh I've filed bankruptcy, I've had unpaid rent, but I probably wouldn't have to have unpaid bills if I had more money in my paycheck."
"Since I began working at 18 years old, until now, I barely got a job now that pays a little over $15. And they wonder why I have unpaid bills. Because I need to feed my kids. Because … OK so, if I pay this, I'm going to have to cut off this. OK, I'm going to be sitting in the dark, but at least my water's on. So you have to make decisions of what you're going to pay and then it catches up to you. Like they say, the struggle is real."
"I'm going for [a $16 minimum wage for anyone with a high school diploma] and five years of experience.
(Earning $15-plus per hour, Alexander says she's still eligible for a Bridge Card.)
"I catch the bus every day. I drive my car very minimally too, because of the roads. And that's another thing too, I want to see about changing the roads. Because I don't want to keep driving my car and damage my car, try to come up with the money to get it fixed, [and] have it break down again."

On her former opponent, Sen. David Knezek:
"I never even knew who he was until the race when I saw his name. That's the first time I ever heard of him. And that's a problem. I don't want to be that type of person, I want to be out there, going to different places, letting them know who I am and if they have questions they can call me or Facebook or email — something. Because like I said, I never saw him, I never knew anything about him."
"And it's so funny, it wasn't until yesterday in the mail that I got a flyer to vote for him."
"I talked to a couple of neighbors and they hadn't heard from him [either]."

On why she thinks she can serve voters better than Knezek:
"Because I'm one of them. I struggle like a lot of them do. I'm going to be able to go into the communities and hear what type of problems they're having, and even if I might not hear it, I know it, because I'm dealing with it. I feel like I can serve because I am there. There should be more people like me actually at the table, instead of all these political people who are corrupt and not helping the people. I want to be for the people."

On Lemmons' outsized role:
(The following statement came after Lemmons said he was "livid" over the
corporate dollars flowing to Duggan-backed legislative candidates
,
seven of whom won Democratic primaries last week
.)
"And so now they're saying that I'm a puppet. I have my own voice. He's my adviser, he has helped me, a lot of political people have had advisers. He's advising me and helping me because I don't know a lot of things, but I can make my own decision.
"They're just so after me, because I'm just an average, hard-working woman. They just don't like that."
Lemmons adds, "I'm a grassroots organizer, I'm not in anybody's pocket either."
On why she previously ran for school board:
"Because my daughter's in school and I was trying to make some changes for them. I want to be able to have more funding so they can have smaller classes. My daughter had a class once and there was like 30 people in there. … I want to be able to get the funding so they can get more teachers in."

On the frenzy after the win:
"After I won on Tuesday, Wednesday, I'm sitting at work and all of a sudden my phone is blowing up, calls, texts, emails coming through, like, 'Who are you, what do we need to know about Betty Jean Alexander?' I think they even have a Facebook now like 'Who is Betty Jean Alexander?'
"Especially Fox 2. They've been coming to my house, going to the neighbor's house, asking have they seen me, do I live here? What really bothered me was Friday, I was at work and I got a text from [a Fox 2 reporter] and she tells me, 'Can we have a quick interview?' I text her back, I said, 'I'm at work, I cannot get these type of interruptions at work' and to refer all her questions to [LaMar]. Then I get another one — 'Can I get a quick sound bite?' Again, 'Unfortunately I'm at work, I cannot do this.' Then about 30 to 45 minutes later my daughter calls me and says 'Fox 2 is outside!' She says, 'Some lady wearing a yellow dress.' So I text [the reporter] back, 'Are you at my house?' And she says 'Yes.' I say, 'You knew 30 to 45 minutes ago I was not home.' And she knew I wasn't home. … And then I get home and I see [her story on] the news and she's knocking, 'Betty Alexander are you home, Betty Alexander are you home?' And she knew I wasn't home! And that was just so irritating to me."
"Someone even came yesterday evening, and I saw their little badges, they had a camera, and I was like, 'I'm not going to the door.' Then they went to the neighbors. I watched them do a little circle, they went to that neighbor, they went to there, and I'm like, 'It's not that serious, people.'"

On a reported fraud charge:
"It was no intention of fraud. I wrote a check, it bounced, I moved from the address where I was at, and I guess during the meantime they had sent me something saying, 'OK if you don't take care of this, we're going to prosecute you.' So when I realized it did catch up to me I went down there right to the courts, I did not spend a day in jail, the only thing, I did have to go in and get my picture taken. I pleaded no contest, paid back the fine, and that's it. That was over 16 years ago."
What's ahead:
"We're going to campaign."
"I'm feeling good about [the prospect of getting elected]. LaMar is going to show me all the things I need to learn."
Stay on top of Detroit news and views. Sign up for our weekly issue newsletter delivered each Wednesday.