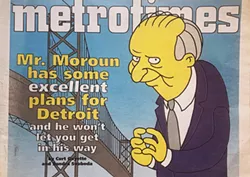 Controversial billionaire Manuel "Matty" Moroun has died,
Crain's
reports. He was 93.
Moroun made his fortune, which
Forbes estimated to be $1.7 billion
, in the trucking industry, making him of the top 400 wealthiest Americans. But in Detroit, he was best known as the owner of two blighted structures:
the crumbling Ambassador Bridge
that connects Detroit and Windsor, which he owned since 1979, and the abandoned former Michigan Central Station, which was his from 1992 to 2018, where it became known as Detroit's premier slice of "ruin porn" real estate
until he sold it to Ford Motor Co
.
Metro Times
even portrayed him as the dastardly Mr. Burns from
The Simpsons
on the cover
of a 2009 story.
The reason for
MT
's caricature was Moroun's cantankerous relationship with his neighbors in Southwest Detroit, with no less than
Forbes
calling him
"the troll under the bridge"
in a 2004 profile. For decades, Moroun fought both the U.S. and Canadian governments against the construction of a rival bridge, which he believed would hurt his income, by
buying off politicians
with campaign contributions and dragging his feet on completing his share of a public-private venture with the Michigan Department of Transportation — which
eventually landed him in jail for one night
for contempt charges.
In 2018, Moroun even appealed directly to President Donald Trump for help in stopping the rival bridge, airing
a strange commercial
on one of Trump's favorite Fox News shows that seemed like it had an intended audience of just Trump.
"It is difficult to imagine a family more politically powerful than the Morouns,"
Metro Times reported
in 2012, when Moroun was jailed. "Single-handedly, they were able to buy off enough of the state Legislature to forestall approval of a publicly owned bridge that would threaten the virtual monopoly they now enjoy."
Rep. Rashida Tlaib
wrote about meeting Moroun in Metro Times
, saying that when she asked him to stop treating her neighborhood like his playground and to apply for permits first, he dismissed her, saying, "I don't come and tell you what to do in your backyard." (Tlaib's response: "But Mr. Moroun, it
is
my backyard.")
In the end, Moroun lost the fight against the second bridge; the competing Gordie Howe International Bridge is now under construction, expected to be completed in 2024.
Stay on top of Detroit news and views. Sign up for our weekly issue newsletter delivered each Wednesday.