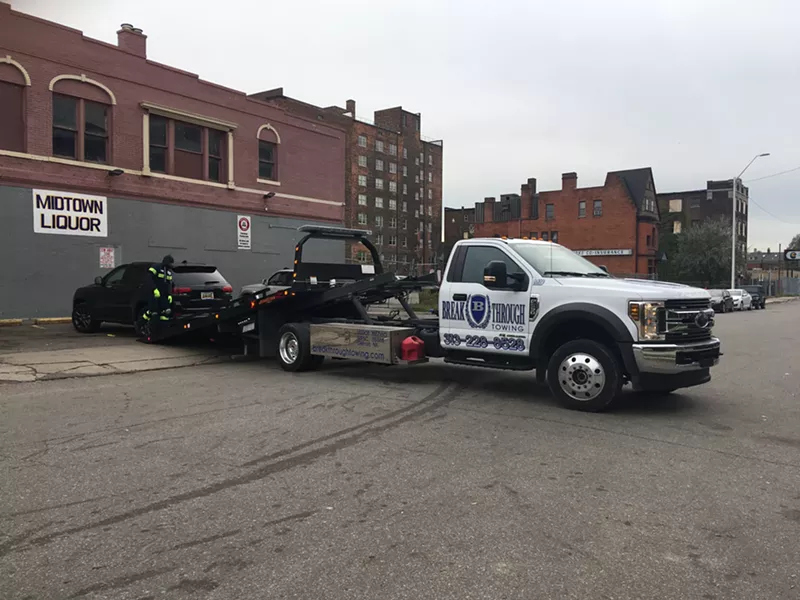 A class-action lawsuit filed last year in District Court against allegedly predatory company Breakthrough Towing has been moved to federal court and now names the city of Hamtramck, the city of Detroit, and the two cities' police departments as defendants.
Among a wide range of allegations, the suit alleges police received kickbacks, and that Breakthrough Towing — now called Magic Towing — and the municipalities and their police departments violated car owners' First, Eighth, and Fourteenth Amendment rights.
It further alleges Breakthrough didn't follow local and state laws when towing cars — therefore the cars it towed should be considered "converted" property, which is a civil allegation similar to "stolen." It also names Midtown Liquor & Deli, a McDonald's at 4235 Woodward Ave., and a Hamtramck CVS as co-defendants, claiming that the businesses conspired with Breakthrough to convert cars. The suit alleges that employees at the businesses may have received "benefits, compensation, or non-monetary compensation" to assist Breakthrough.
Breakthrough repeatedly lied to state and local police about the details of tows, attorneys allege, and also verbally threatened car owners who questioned the legality of tows with physical violence and murder; requested sex in exchange for cars; blackmailed car owners; and made a false police report.
Lawyers allege Breakthrough has also violated numerous Michigan towing laws by refusing to release vehicles to owners who show up before their car is towed.
Co-counsel Jonathan R. Marko called the operation "a mafia-esque extortion racket, being perpetuated in broad daylight on innocent Detroiters. Innocent victims' vehicles were held hostage for extortion payments. This scheme is unethical, immoral, and unconstitutional."
In regard to CVS, McDonald's, and Midtown Liquor's roles, the suit alleges that Breakthrough doesn't appear to have a contract to tow cars from private spots at any of the businesses. Attorney Hannah Fielstra said it also appears that the company towed cars from public spots at two of the businesses, while one car was towed from the street.
She adds that former Breakthrough drivers have told some of the plaintiffs that employees at the businesses received compensation. An especially high number of cars were towed from the McDonald's. In one case, a Breakthrough driver directed a car owner who ate at McDonald's to talk to "Alize" in the McDonald's about the tow, but he was told Alize had left for the day, and the Breakthrough driver left with the car while the owner was inside the store.
A spokesperson for McDonald's corporate previously told
Metro Times
the store had done nothing wrong, though the McDonald's recently announced that it had ended its relationship with Breakthrough. An employee from Midtown Liquor previously told
Metro Times
that Breakthrough had permission to tow only from the spaces along its building, not the portion of a lot that stretches past the store to the front of a house on Willis. When contacted by
Metro Times
on Tuesday, an employee identified as "Louie" told a reporter to "go fly a kite" before letting loose a string of expletives.
A CVS employee declined to comment when contacted on Tuesday.
Fielstra says there are many unknowns regarding the issues with the businesses due to changing stories from business owners, but "once we get into discovery, then we'll be able to request information from all these people to confirm" or resolve the issues, she said.
The First Amendment claim is based on the plaintiffs' "inability to reasonably petition government for redress" because they were not given proper notification of the tow and how to protest it.
Michigan law requires tow companies to notify local police departments when they tow cars, Fielstra said. A police department is supposed to run the plates to ensure that the car isn't stolen, then notify the Secretary of State. The Secretary of State is supposed to send out a notice of abandoned vehicle form to the car's owner. Without that, the owner can't go in front of a judge to argue that their car shouldn't have been towed.
Fielstra said it's unclear whether the police departments or Breakthrough Towing failed in their state law-mandated obligation to follow that process, but, either way, the victims' right to protest was violated.
The suit alleges Eighth Amendment violations for excessive fees. Plaintiffs allege they were charged $400-plus fees to retrieve their cars; $20 to $25 extra to grab insurance or registration papers out of their cars; and after-hours fees even though the business is open for 24 hours. In one instance, a car owner was charged $25 to retrieve his inhaler.
The Fourteenth Amendment violation claim alleges that the plaintiffs' right to due process was violated because of inadequate signage that didn't meet state law requirements, Fielstra says, and because the notice of abandoned vehicle form was never sent.
Though private businesses and residents typically can't be hit with constitutional violation claims, attorneys are arguing that Breakthrough Towing owner Michael Dickerson is intertwined with the cities and police departments. Breakthrough and Dickerson "amount to state actors," Fielstra said. Dickerson couldn't be reached for comment.
The plaintiffs are also represented by Tony Paris and Kathleen Garbacz of the Truth2Power Civil Justice Fund.
(Update at 3:21 p.m.)
The city of Hamtramck issued a statement:
The serious allegations in the complaint against unnamed members of the Hamtramck Police Department completely lack merit. Hamtramck does not contract with the defendant towing company and, under state law, cannot interfere with private property owners who choose to do so. Hamtramck has, however, taken appropriate measures to enforce state law as it relates to towing companies operating within the city. Hamtramck selected its own (different) towing company in a thorough competitive bidding process. That company is the exclusive provider of towing services to the city and the only vendor HPD is authorized to call for towing services. Hamtramck and its provider follow state law regulating towing. Hamtramck will vigorously defend this meritless lawsuit.
Stay on top of Detroit news and views. Sign up for our weekly issue newsletter delivered each Wednesday.