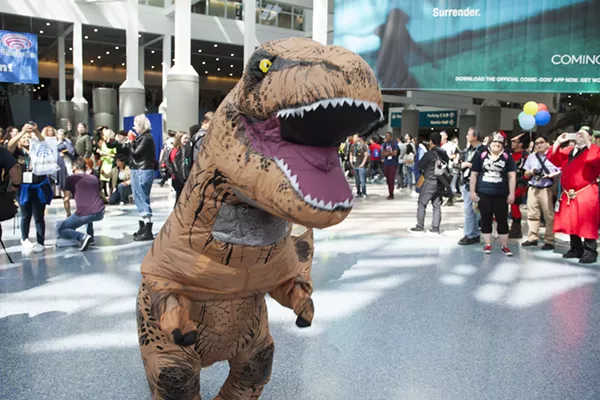 We've all seen the YouTube clips: Someone dressed up in an enormous T-Rex costume
gatecrashes a ballet studio
or bum rushes students on their way to class or heads into a
local alt-weekly's office for the day
.
The videos are funny enough, but the administration at Macomb County Community college aren't laughing. They recently banned a student from speaking publicly while wearing the oversized costume, and now they're facing a lawsuit.
Turning Point USA, a student group that works to raise awareness about the value of fossil fuels, was handing out literature at MCCC's Clinton Township campus and one of its members was dressed in a T-Rex costume. Campus police addressed the group, telling them they were violating permit policies and could be charged with trespassing if they didn't leave right away, according to a press release from the Alliance for Defending Freedom.
ADF states that MCCC has a policy that inhibits the freedom of speech. The college requires all students hoping to participate in public expression, except for labor unions, must first ascertain a permit from administrators. The permit then assigns the student a "tiny speech zone that makes up approximately .001 percent of the campus." They Alliance believes this limits the students' ability to communicate effectively.
"Of all places, public colleges are supposed to be budding laboratories for democracy. Administrators should encourage, not stifle, free expression," ADF Legal Counsel Caleb Dalton said in a press release. "By banning free speech, requiring permission for any public expressive activity, and even then only permitting public expression on .001 percent of the campus, college officials aren't respecting the constitutionally protected freedoms of students. Because of the First Amendment's guarantee of free speech, courts have repeatedly rejected as unconstitutional policies and practices like those at Macomb Community College."
Now, in a lawsuit fronted by an ADF legal team, Turning Point USA is seeking nominal damages as well as change in the college's policies. The complaint asks the court to declare such policies and practices unconstitutional under the First and 14th amendments and to block officials from further censorship.
"It should disturb everyone when any college communicates to a generation that the Constitution doesn't matter," Casey Mattox, an ADF senior counsel said in the press release.