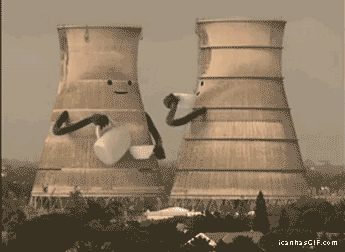 As we look back on the
Chernobyl disaster
30 years ago this week, it's a good time to think about the drawbacks of nuclear reactors. Before Fukushima, Chernobyl was the most extreme example of what can go wrong with atomic power. Before that, of course, the best example was right here in the United States, with 1979's Three Mile Island accident, which cost $1 billion and took more than a decade to clean up.
Actually, you may not realize that Detroit has had a long and troubled history with atom-splitting that goes right back to the beginning. For instance, Chrysler electroplated the tubes used at Oak Ridge, Tenn., which was part of the U.S. effort to build the first atom bomb.
A little more than 10 years later, workers broke ground on Detroit's first nuclear reactor, Fermi I, which was finished by 1963. Three years later, Fermi 1 suffered a partial meltdown, which was probably the best-known nuclear incident in the U.S. at the time. It inspired the book
We Almost Lost Detroit
, which in turn inspired Gil Scott-Heron to write a song by that name. For its part, Detroit Edison (now DTE Energy) published a book called
We Did Not Almost Lose Detroit
. (To which author John G. Fuller presumably taunted back, "Did too!")
Plans for Fermi 2 were announced in 1968, and it took 20 years to bring the plant from concept to full commercial power production. It was built with the same type of General Electric reactor design as the now-famous Fukushima Daiichi Nuclear Power Plant. Of course, we don't get earthquakes in these parts, but we do get some pretty rough weather sometimes.
For instance, consider June 6, 2010, when tornadoes touched down all across the Midwest. One of those twisters touched down in Monroe and got within 500 feet of DTE's Fermi facility, ripping off siding as it whirled out onto the lake. (Then again, you might have missed that news, as the world was still reeling from revelations that Katy Perry had posted a topless photo on Twitter.)
And we've seen several reports of shutdowns and repairs at Fermi 2 in recent years. In
June 2012
, it was shut down when a feed water pump stopped working. In
late 2012
, it was shut down for eight weeks while a water pump was repaired. In
2013
, the U.S. Nuclear Regulatory Commission inspected the plant due to "three unplanned shutdowns within 7,000 hours of reactor operating time." The plant also had what was described as "a small fire" while the reactor was shut down in
March 2014
. And it was shut down for repairs in
September of last year
.
Of course, you can't fault DTE Energy for shutting down a plant to make sure the sucker keeps functioning properly, but you wonder about how long a plant like Fermi 2 can stay operational. For a while, Fermi 2 was scheduled to be joined by a Fermi 3. DTE applied for that license in 2008, although the plans for that reactor are on hold. That decision probably has more to do with energy prices than with any qualms about nuclear power. In the meanwhile, DTE Energy spokespersons have said that the company wants to keep using the now-30-year-old reactor until 2045, when it will be 60 years old.
That would have been unthinkable a generation ago, when plants were being described as having 40-year lifetimes. Lately, however, researchers and regulators have been moving the goalposts, so to speak.
Speaking to Scientific American in 2009
, the director of U-M's Energy Institute, Gary Was, sounded an excited tone about all this, saying: "If they last till 60, maybe they can last to 80 … Heck, maybe 100?"
While nuclear insiders like Was wax rhapsodic over such possibilities, most Americans feel a little leery about living near an atomic energy facility that's operating past its "decommission by" date. And it doesn't exactly calm those jitters when
Radio Free Europe calls Fermi 2 one of "Five Nuclear Disasters Waiting to Happen."
Then again, think of our local public. If there's one thing that's probably not on their radar, it's the creaky old atom-smashing plant down on the lakefront. Residents of these parts are more likely to declare that sports stadiums need to be replaced more regularly than nuclear reactors. After all, the Palace of Auburn Hills began receiving fans the same year Fermi 2 began producing power.
Which one do you think metro Detroiters can't believe hasn't been declared obsolete yet?