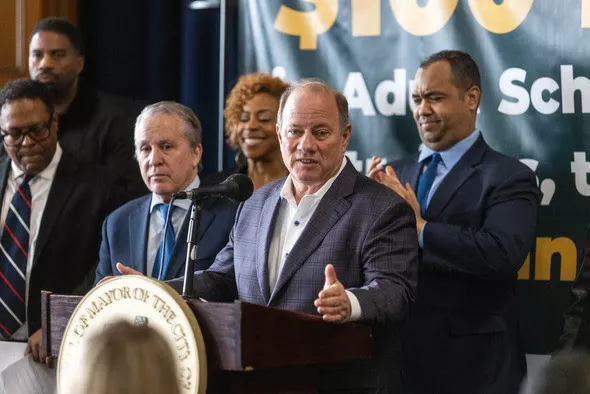 The city of Detroit selected 18 community organizations that will assist with a new program aimed at helping long-term unemployed residents land a job.
Through the
Jump Start program
, the organizations will provide training, mentorship, and other supportive services to residents who have been without employment.
Enrollment begins Tuesday.
The program is being funded by the American Rescue Plan Act (ARPA), a $1.9 trillion federal initiative to help local and state governments that have been struggling amid COVID-19 pandemic.
Gene Sterling, ARPA coordinator and a senior advisor to President Joe Biden, joined Mayor Mike Duggan on Friday to discuss the rollout of the program.
Sterling said the program is the first of its kind in the country and could help other cities.
"Mayor Duggan's Jump Start Initiative to put those who have faced long-term unemployment on a path to a strong, dignified job is a national model of how to deploy President Biden's American Rescue Plan to address not only the immediate challenges created by the Pandemic but to ensure a more equitable recovery that leaves no one behind," Sterling said. "The entire Detroit-At Work Adult Scholarship program is indeed one that President Biden has highlighted as one of the nation's most innovative, pro-work strategies funded by the American Rescue Plan to build a larger, more skilled, and more inclusive workforce."
The program aims to assist at least 1,200 Detroiters with adult basic education and digital literacy, high school or GED completion, occupational or career training, and job searches.
The 18 community groups will be tasked with finding residents who need help and enrolling them in education or training programs. The community groups will be eligible for performance-based incentives of up to $2,200 per participant.
"In the Jump Start Program, participants have a financial incentive to work hard and succeed, and so do the [organizations] that are helping them along the way," Duggan said. "We really believe that this approach will result in a lot of Detroiters who had stopped trying to find work getting onto a path to gainful employment that can sustain them. We are deeply appreciative to President Biden for create the ARPA program and making Jump Start possible."
Duggan plans to reveal how Detroiters can access the assistance during an address at city hall at 7 p.m. on Monday. The address will be live streamed on
the city's website
and
Facebook page
.
"Knowing where to start when you're ready to get into the job market can be hard, especially for people who have been out of the workforce for a while," Nicole Sherard-Freeman, who serves as the Mayor's group executive for Jobs, Economy and Detroit at Work, said. "To be better at coming alongside our residents, we're taking community-centered partnerships to the next level. A stronger, financially supported network of community-based grassroots organizations that have long-standing relationships deep in our neighborhoods is the next frontier in getting thousands of Detroiters on the road to a better job or a new career."
The organizations selected by the city and the districts in which they are located are:
• International Institute of Metro Detroit D1, D2, D3, D4, D5, D6, D7
• Vincent & Sarah Fisher Center D1, D2, D3, D4, D5, D6, D7
• Focus Hope D1, D2, D3, D4, D5, D6, D7
• Fit4Life Health and Fitness D1, D2
• The Open Door COGIC D3
• TMI Detroit Inc. D3
• Family Assistance for Renaissance Men D3, D4, D5
• Alkebu-Lan Village D3, D4, D5
• Emerging Industries Training Institute D3, D4, D6
• The Black Bottom Group D4
• Urge Imprint - Detroit Friends and Family D4, D5
• Church of the Messiah Housing D5
• Teach Empower Achieve (T.E.A.) D5
• Center for Employment Opportunities D5
• Spectrum Human Services Inc D5
• Detroit Hispanic Development Corp D6
• Southwest Detroit Business Association D6
• The People's Action D6, D7
Coming soon: Metro Times Daily newsletter. We'll send you a handful of interesting Detroit stories every morning. Subscribe now to not miss a thing.

Follow us: Google News | NewsBreak | Reddit | Instagram | Facebook | Twitter