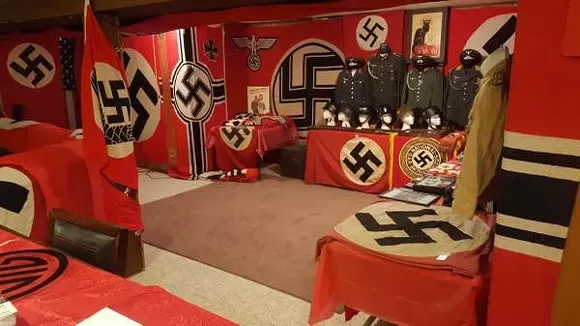 File this one under
WTF
.
Five days ago a collector seeking, "WWI, WWII, Vietnam American, German, and Japanese items" posted an ad on the Detroit Craigslist page with this, uh, remarkable and eye-catching image.
The collector — who, I suppose, could choose to amass Nazi paraphernalia for reasons other than being a Nazi himself — is calling for daggers, bayonets, helmets, uniforms, pictures, medals, field equipment, swords, flags, personal items, dog tags, and pistols, for which he is willing to pay "top dollar."
Based on the contact number provided in the post, the stash is likely tucked in a
Macabre
Macomb County basement where the owner simply enjoys the uplifting feeling of being surrounded by so much cheerful cherry red.
You can see the listing
here
.