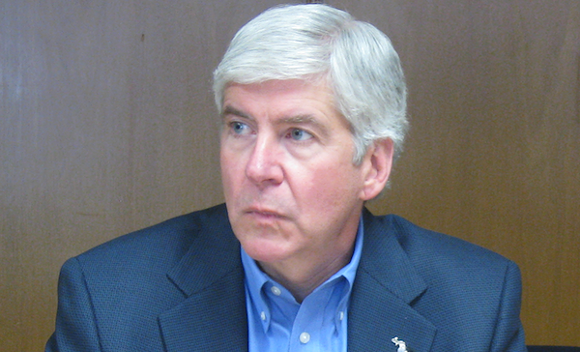 Offering results that should surprise absolutely nobody, a study released this week shows that Michigan residents' faith in state government has reached rock bottom.
The study, entitled
Fractured Trust
, was released March 29 by the Center for Michigan, a nonprofit think tank best known as publishers of
Bridge
magazine.
Key takeaways included:
• The people do not trust state government to deliver on many of its key missions.
• More than 90 percent of participants in the study's community conversations said it was "crucial" or "important" to improve state government's performance in education, public health, and environmental protection.
• Those same conversations found "low" or "very low" trust in the campaign finance system, especially to protect politicians from undue influence while "free speech" rights allow individuals, groups and corporations to drop off dump trucks full of cash.
• The report found "low" or "very low" trust in the state emergency manager system to effectively balance the competing needs to solve local financial crises, deliver basic public services, and provide local and representative government. (Not at all hard to believe when you consider the law was rescinded by statewide referendum, forcing Lansing's lame duck legislature to ram another version of it through with an appropriation attached that made it referendum-proof.)
As we said, there are no surprises here about the quality of Michigan government. One respondent summed it up nicely: "You know, there was no trust prior to this, but the Flint situation has literally destroyed our faith…I find it mind-boggling to try to answer these questions in a calm way. It's not possible because there's too much sorrow and pain and expense in how we're operating the state."
Yes, these problems have been around for some time. The Center for Public Integrity, a respected nonpartisan watchdog organization,
rated Michigan dead last in terms of integrity in 2012
, and
again in 2015
. This year, the state was rock-bottom again.
=======================
While the study finds that Michiganders agree on few remedies, you don't have to look far to find people passionate about their proposed answers. Among them is a consortium of Michigan residents that are now asking the Supreme Court to get review the state's much-hated Emergency Manager Law.
Led by Russ Bellant,
a group of petitioners are raising a number of issues with the law
, and the rhetoric is extra-spicy.
It's especially exciting to see the resistance fighters on this petition. While some legal groups call for tweaking the EM law or "reforming" it, these petitioners feel even more strongly and strike closer to the root. For instance, John Philo of Sugar Law Center
has maintained that the law is unconstitutional
and has wants it gone. A press release today says as much, with Philo declaring:
Michigan's emergency manager law has no place in a democratic society. The law rips voting rights from predominantly African-American and low-income communities, finding them unworthy of the right to elect those officials who govern their cities, towns, and schools. It is racist and bigoted at its core.
Julie Hurwitz, partner in the Detroit civil rights firm Goodman & Hurwitz, PC, added:
The travesty of Flint is a poster child for what happens when the government is allowed to run our communities based only on the 'bottom line,' with no regard for the democratic process or the human and fundamentally anti-democratic consequences of their decisions. Michigan's Emergency Manager Law, if allowed to stand, is a model for the current assault on our democratic and civil rights throughout the country,
One of the weirder turns the legal challenge to the EM law has taken was that the law deprives hundreds of thousands of Michigan citizens, specifically African Americans, of their fundamental rights under the Voting Rights Act. The Sixth Circuit Court of Appeals, however, found that the Voting Rights Act protects only the physical act of casting a ballot. Isn't that interesting? Your right to cast that ballot is sacred and worth defending. But as soon as they accede to office, they can be stripped of power in a sneaky switcheroo? Darius Charney, a senior staff attorney for the Center for Constitutional Rights, said:
The point of democracy is not for people to merely go through the motions of electing those who sit in a given 'elected seat,' but for them to have an equal right to participate in democracy by electing those who actually govern.

=======================
While the state's residents clearly don't trust that their legislators have their best interests at heart, of which Michigan's emergency manager law is a prime example, you have to give Gov. Rick Snyder a bit of the benefit of the doubt.
Sure, he resisted a court order to provide each Flint residents with bottled water if they needed it. It's true that he's been fighting that court order even after his
state's AG decided not to
. Yes, he says he just can't abide the state having to pay $10.5 million a month to ensure water access for the people his skinflint emergency managers, now under indictment, poisoned. Through a spokesperson, he says the price is too high.
But does anybody look at the governor's caring side? He has issued
37 proclamations just this month
. And about important stuff too! He's helped raise awareness about Lynch syndrome, epilepsy, narcolepsy, problem gambling, colorectal cancer, sudden unexplained death in childhood, kidney health, neuromyelitis optica, developmental disabilities, traumatic brain injury, and fibromuscular dysplasia. He has dedicated days and weeks to adult education, Michigan food and agriculture, pi and pie, K-9 veterans, women construction workers, and consumer protection. His proclamations have expressed and urged appreciation of Michigan conservation officers, school principals, certified government financial managers, pure maple syrup, and so much more.
So, in light of a damning report showing how Michiganders think the government he's in charge of is an utter failure, what response did Gov. Snyder have? What proclamation was issued today? What brave utterance was issued?
Gov. Snyder declared March 30, 2017 to be "Medical Biller's Day."
It was a thoughtful, measured proclamation, noting that "medical billers strive to provide a high level of ethical, lawful and professional conduct throughout the entire health care industry." Among their skills are offering "expertise in carrier reimbursement requirements" and ensuring that medical claims are "accurately prepared." In summation, Snyder urged they be recognized for their labors, and "their loyalty to the medical billing profession."