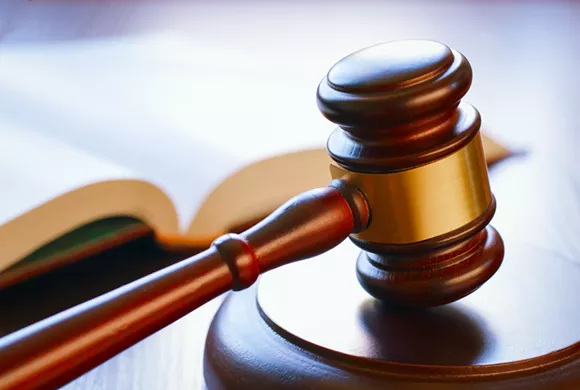 A lawsuit filed against Wayne County that alleges illegal strip searches of female inmates are conducted at the county jail should be dismissed, a federal magistrate judge has said — but the dispute surrounding the case is far from over.
As part of a lawsuit that has wended its way through the system since 2012, former inmate Janine Weathington hasn't contested the contested the legality of the strip searches themselves — it's the manner in which she and her attorneys say the Wayne County Sheriff's Office has systematically conducted them that is the problem: In groups of 30 to 50 at a time, in the presence of male officers, and under circumstances that fly in the face of her constitutional rights under the Fourth Amendment.
But U.S. Magistrate Judge Michael Hluchaniuk recommended in a decision issued last month to dismiss Weathington's potential class-action case, saying the plaintiff failed to exhaust administrative remedies for grievances at the jail prior to filing suit — a requirement under federal law. (A spokesperson for the county sheriff's office could not be reached for comment late Tuesday.)
The recommended decision — which would allow Weathington's attorneys to replace her with a new class representative to keep the case alive — must be approved by U.S. District Judge John Corbett O'Meara to go into effect.
The lawsuit,
first reported by MT earlier this year
, has stagnated for months in anticipation of Hluchaniuk's recommendation on what amounts to a procedural quibble by the county — the question of whether the alleged strip searches were illegal hasn't been addressed by the court at this juncture.
A provision of the Federal Prison Litigation Reform Act (PLRA) says inmates are required to use grievance systems that are available to them first. (Inmates are made privy to the availability of the grievance process by way of an inmate rules and regulations booklet provided to the inmates as part of the intake process. Weathington denies ever receiving the booklet.)
The county has said it has a system in place that allows for inmates to easily file grievances, pointing to the fact that thousands of them are filed annually. The idea that Weathington submitted grievances and received no response, as she contends, is extraordinary, according to the county.
In addition, Weathington contends she submitted four grievances on the issue of strip searches and later brought them to a state prison. The county says Weathington protocol precluded her from leaving with anything but the "clothes on her back" — and has gone as far to claim she fabricated the grievances for the purpose of litigation. Michael Dezsi, one of Weathington's attorneys, told
MT
earlier this year the system Wayne County touts is dysfunctional, at best.
"It's inefficient, it's disorganized," he said. "I believe that, from me talking to a number of clients not just in this case, but, I mean, I do a fair amount of criminal defense work — I've been over there many times to see my clients and it seems to be very dysfunctional."
Hluchaniuk sided mostly with the argument put forth by the county.
Writing on Weathington's claim she misplaced copies of her grievances, the magistrate said it's "not particularly persuasive."
Furthermore, Hluchaniuk says Weathington's falsely testified that she made copies in the prison's library, as the county's records don't show she ever visited the library.
"Based on the above evidence, this court does not accept plaintiff's testimony that grievances were filed by her relating to strip searches at the Wayne County Jail during the period of November of 2011 to March of 2012," Hluchaniuk wrote.
Regardless of Judge O'Meara's decision on whether to approve Hluchaniuk's recommendation, the allegations against Wayne County won't disappear anytime soon.
That's because Weathington isn't alone. In December, Dezsi filed a separate complaint on behalf of another former inmate, Sumpter, who levies similar allegations.
Sumpter is a 22-year-old Detroit resident who never had any previous run-ins with the law, according to Dezsi, before the case that landed her in Wayne County Jail. "She's not someone who has been in and out of prisons or jails," he said.
Sumpter was involved in an automobile accident; she was behind the wheel and a friend in the car was "seriously hurt." The family of her friend pressed charges, Dezsi told
MT
in January. According to MDOC's Offender Trafficking Information System, Sumpter was eventually convicted on three counts of reckless driving. She was granted parole last August.
During her monthlong stay at Wayne County Jail in October and November of 2012, though, Sumpter "had just no idea what should or shouldn't be happening in jail," Dezsi said.
Sumpter was one of the inmates who signed affidavits for Weathington. Dezsi connected with her after and filed her lawsuit against the county. It contained the same allegations Dezsi had already heard: Hundreds of female inmates "would see and hear the male officers laughing and otherwise mocking them while standing naked and being forced to expose themselves," and that group searches "were conducted without reasonable suspicion that any particular inmates were in the possession of contraband."
Sumpter's case remains pending. The county earlier this year filed a motion to consolidate both cases; U.S. District Judge Judith Levy put the case on-hold until O'Meara ruled on that issue.
In an interview Tuesday, Dezsi said Hluchaniuk's recommendation "doesn't end the controversy."
"Wayne County's going to be held accountable for their unconstitutional actions," he said.