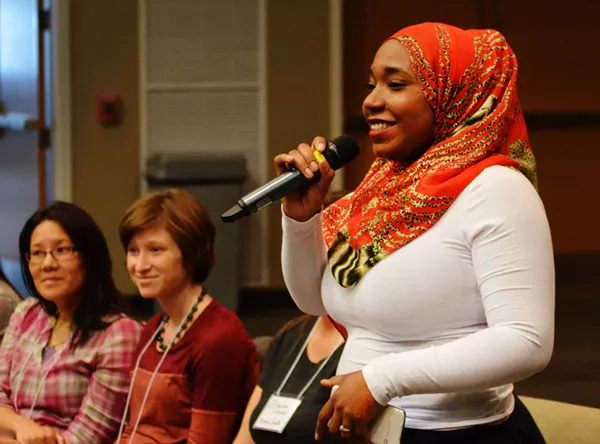 Detroit activist Siwatu-Salama Ra will be released from prison on bond pending her appeal.
The 26-year-old co-director of the Detroit-based East Michigan Environmental Action Council is appealing felonious assault and firearm convictions from March
that resulted in a two-year prison sentence
. Those stemmed from a 2017 incident in which Ra brandished an unloaded, registered gun to stop an attack on Ra and her family.
In June, Ra gave birth while imprisoned for what she and supporters say was a clear act of self-defense.
Wayne County Circuit Court Judge Donald Knapp Jr. — a Rick Snyder-appointee — made the decision to release Ra at a Wednesday, Nov. 14 hearing. That's a reversal from Knapp's ruling in late October. At the time, he said Ra is a threat to the community and
denied her request
to be released while the appeal process plays out.
Ra and attorney Wade Fink appealed that decision to the Michigan Court of Appeals, which last week sent the case back down to Knapp, requesting clarification on why he found Ra to be a threat. The Appeals Court's order stated that Knapp needed to "articulate on the record why
defendant
did not establish by clear and convincing evidence that she does not pose a danger to other persons. Conviction of the crime alone is not a sufficient basis."
In other words, Ra's conviction isn't enough to find her to be a threat because that conviction is being appealed. Outside of the case, she's widely viewed as a model citizen and community leader.
Ra and Fink also had to show that Ra has a legitimate claim in her appeal, and Fink says they unquestionably did so. Among other issues, Ra's appeal contends that Wayne County Circuit Court Judge Thomas Hathaway should have instructed the jury to consider Ra's brandishing of an unloaded gun as a use of nondeadly force, rather than deadly force.
Metro Times
he's pleased with Knapp's decision.
"I'm very grateful that Judge Knapp was thoughtful about the Court of Appeals' opinion and my supplemental brief, and rendered an opinion that was just," he says.
Ra will likely be released within the next several days from the Huron Valley Correctional Facility with a tracking tether on her ankle. The Court of Appeals could take up her case as early as December.
Stay on top of Detroit news and views. Sign up for our weekly issue newsletter delivered each Wednesday.