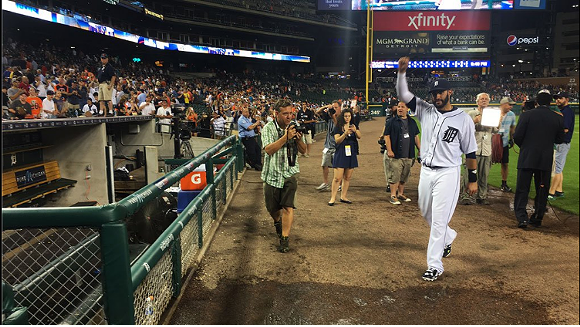 "Everyday I'm hustlin', hustlin," boomed the speakers at Comerica Park during the Tigers match against White Sox.
No, could it be?
Waves of realization, then anticipation, rippled through the ballpark as fans began to cheer. James McCann was slated to lead off the inning for the Tigers, and yet- there it was, the walk up music fans hadn't heard in almost two months.
Eager, apprehensive, nervous and excited all at once, the crowd was on its feet. A standing ovation for fan favorite J.D. Martinez, pinch hitting in his first appearance back from injury since June 16th, thundered down from every side of the ballpark. It was the bottom of the 8th, tie game.
As J.D. stepped into the batter's box, Comerica reached a fever pitch. White Sox catcher Dioner Navarro took a moment to embrace Martinez, congratulating him on his return. Even prolific Sox pitcher Chris Sale stepped off the mound briefly, acknowledging the atmosphere and the incredible moment.
Incredible it was. And then, it was magical.
Martinez, seeing his first pitch at the Major League level in over a month and a half, crushed an absolute no doubter into the bushes at left center field. The crowd, already buzzing, went completely nuts.
🎵 Guess who's back, back again? J.D.'s back, tell a friend. 🎵https://t.co/pBcuHsVFig

— Detroit Tigers (@tigers) August 4, 2016
As he rounded the bases and the Tigers took a 2-1 lead, his teammates couldn't believe it. It didn't quite look like J.D. believed it, either, looking almost stunned until he made his way back to the dugout. But stuck in the shrubs 442 feet away was proof: That. Just. Happened.
Three outs later, the Tigers had won their 8th straight, J.D.'s homer standing as the game winner.
"I wasn't expecting to get that kind of ovation that they gave me when I was walking in," Martinez
told the D
etroit Free Press
. "That was awesome. I couldn't ask for anything more. If I could thank the fans individually, I would thank them. That was just really cool."
Despite initially having a strategy for Sale's pitching, Martinez was moved by the response from the crowd.
"I was just like 'You know what, forget this — see ball, hit ball.' Look for the ball, and just be ready to hit," he told the
Freep
. "I saw it nice and slow and just said, 'This is it.'"
J.D.'s return bolsters a Tigers team that has already been playing extremely well as of late, winning their past 8 games and averaging over 7 runs in that same stretch. On the strength of last night's victory, the Tigers now sit in the 2nd American League Wild Card spot, and have closed to within 2 games of the division leading Cleveland Indians. The good news doesn't stop there.
Thursday's season finale against the White Sox will feature the return of another Tiger from the injured list, #2 starting pitcher Jordan Zimmermann. One of the Tigers' weaknesses all year, Zimmermann's return should help patch up a leaky rotation if he can return to his dominating April form.
There's something special happening with this team, and Wednesday night was only the latest microcosm of that. If they can stay healthy and hot down the stretch, it's anyone's guess what might happen come October.
Here come the Tigers!