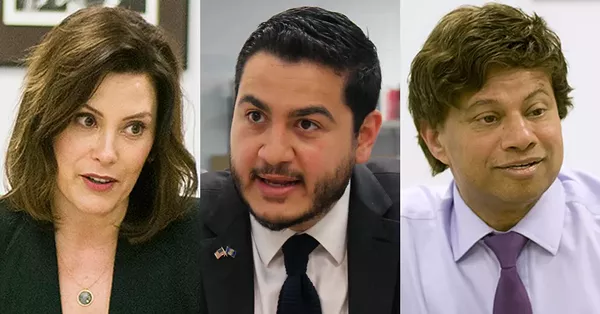 Approximately 2 million Michiganders are expected to cast ballots in today's primary election, in what could be the most energizing primary the state has seen in 40 years.
Competitive statewide contests and active down-ballot candidates are said to be
boosting voter turnout
(absentee returns are up 50 percent from 2014) — particularly among Democrats who will choose between
competing visions for the future of their party.
You can vote for one party today — Democrat, Republican, or Libertarian. Polls are open from 7 a.m. to 8 p.m. To find out where you're registered and to view a sample ballot for your jurisdiction, click
here
.
Governor
Democrat: This contest pits former State Senate Minority Leader Gretchen Whitmer against former Detroit health director Dr. Abdul El-Sayed and businessman and chemist Shri Thanedar. Whitmer has the backing of the Democratic establishment and nearly all of the state's unions. El-Sayed has the backing of myriad progressive groups and leaders, including Vermont Sen. Bernie Sanders, who won Michigan's Democratic primary over Hillary Clinton in 2016. Thanedar has the backing of, well, a lot of his own money. The millionaire has self-funded his bid for governor with about $11 million.

Whitmer is running on issues that can generate bipartisan consensus, like fixing the state's roads. El-Sayed and Thanedar have staked out a leftist platform, advocating for single-payer health care and avoiding corporate PAC contributions. But El-Sayed has gone furthest left and provided some of the most detailed policy proposals, including, for example, a plan to end water shutoffs and make basic water consumption free for Michiganders.

You can learn more about the policy positions of each of the candidates here.


Republican: Attorney General Bill Schuette and Lieutenant Governor Brian Calley lead a four-man race that includes state Sen. Patrick Colbeck and businessman Jim Hines. All of the candidates have sought to align themselves with Donald Trump, but only Schuette has the president's endorsement. Learn more about the Republican side of the governor's race here.

Libertarian: Michigan hosts its first-ever Libertarian primary after Libertarian presidential candidate Gary Johnson received enough votes in the state in 2016 to get the party a primary. John Tatar and Bill Gelineau are running for governor. There are no Libertarian down-ballot candidates.

U.S. Senate
Republican: Businessmen John James and Sandy Pensler are vying for a chance to unseat Democratic Sen. Debbie Stabenow. According to Deadline Detroit, both candidates "adhere closely to the party's less taxes, less spending, less immigration mantra." Trump has endorsed James (so has Kid Rock). You can learn more about Pensler and James via candidate questionnaires they submitted to the Detroit Free Press.
Congress
MI-09: Longtime Democratic Rep. Sandy Levin's retirement has given way to a competitive contest in this safely Democratic district. Levin's son, Andy Levin, a businessman and who once headed a state agency in the Granholm administration, is running against former state Rep. Ellen Lipton. Candius Stearns is the lone candidate on the Republican side. The general election is likely to go to whichever Democrat wins the primary.
MI-11: Republican Rep. Dave Trott's early retirement has Democrats hopeful they can flip the district that includes Livonia and other northwest Detroit suburbs. The race has a total 11 candidates on both sides. Read a bit about them here.
MI-13: The deep-blue district is up for grabs following the departure of longtime Democratic Rep. John Conyers, who was last fall accused of sexually harassing multiple staffers. The six Democrats in the race are former state Rep. Rashida Tlaib (whose leftist policy platform landed her in our round-up of progressive primary candidates), Detroit City Council President Brenda Jones, Westland Mayor Bill Wild, state Sen. Ian Conyers, former Detroit mayoral candidate and state Sen. Coleman Young II, and former state Rep. Shanelle Jackson. The winner of this primary will almost certainly go on to win the general election.
State House
There are elections for each of Michigan's 110 House seats and each of its 38 Senate seats. Check out the Freep's voter guide or Vote 411 for more info on those candidates. If you lean left, check out our guide to the progressives running in southeast Michigan.
County/Municipal
Both Macomb and Wayne counties are electing executives, and there are many other local races. Proposals include a SMART millage renewal and amendments to city charters.
Stay on top of Detroit news and views. Sign up for our weekly issue newsletter delivered each Wednesday.