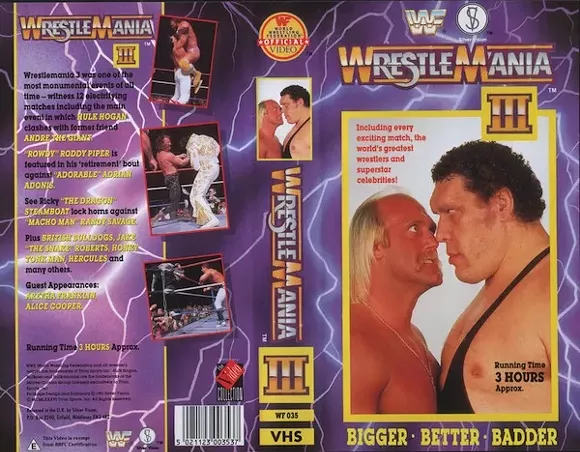 Thirty years ago today, Roddy Piper, Randy "Macho Man" Savage, Jake the Snake Roberts, the Iron Sheik, Hulk Hogan and Andre the Giant, among others, took over the Pontiac Silverdome in front of 93,173* rabid pro wrestling fans. The series of classic bouts, right at the zenith of "Hulkmania" would eventually be released as
WrestleMania III
. At the time, it was the largest recorded attendance of a live indoor event in North American history.
In many ways, it was the zenith of the World Wrestling Federation of the time, but it was also harbinger of a coming cultural shift. The over-the-top showmanship, confrontational stances, superhero-simple archetypes, political oversimplification and is-it-for-real-or-isn't-it qualities of 1980s pro wrestling presaged such phenomena as entertainment-as-news, reality TV, and the Trump administration. As a friend tells us this morning, WrestleMania III was "as scripted as U.S. politics."
In the waning days of the Reagan administration, however, America seemed to have an insatiable hunger for heroes and villains: the bigger and hairier the better. And the World Wrestling Federation provided them in multitudes. And the symbolism was whack-you-over-the-head obvious. When Sgt. Slaughter went mano a mano with the Iron Sheik, were the implications lost on anybody? At the climax of the Cold War, it was no mistake that, on that night 30 years ago, the Iron Sheik and Nikolai Volkoff battled all-American-looking Killer Bees, or that blond-haired, blue-eyed, Georgia-born Hulk Hogan beat Andre the Giant, a Frenchman but Andre Roussimoff's parents
Subtle, it was not.
Detroit, also, has had a long love affair for spectacle. Take, for instance, the insanely loyal following here that grew up around rock 'n' roll mutants KISS, or their latter-day hip-hop heirs Insane Clown Posse. Metro Detroit apparently loves deranged, costumed pageantry so much that Halloween night isn't enough: We have to have Theatre Bizarre and Nain Rouge as well. It only makes sense that what's now the WWE would have had a solid foothold here.
Because Detroit's love of a really big show dovetails neatly with the kind of spectacle on display 30 years ago. Where, outside of a Fellini film, would you expect to see a guy named "Hillbilly Jim," assisted by a black dwarf and a French-Canadian midget, take on a team of King Kong Bundy, Little Tokyo, and Lord Littlebrook?
And don't forget that Detroit has given wrestling its fair share of showman-combatants as well: George "The Animal" Steele, Bruiser Brody, Sabu, Sgt. Slaughter, and Chris Sabin are all from the area. Heck, even Alice Cooper wound up in the ring at WrestleMania III.
And, just in case you came for the wrestling but wanted to stay for more sizzling homoeroticism, we'll just leave this right here:
*This figure has been disputed.