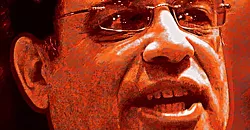 It turns out Turkia Mullin's $200,000 "severance" check is only one of dozens of potentially controversial separation payments made to Wayne County administrators this year.
About 40 employees — high-ranking appointees of County Executive Robert Ficano's among them — received up to 24 weeks of their salaried pay in addition to payouts of their unused sick and vacation time when they retired or left earlier this year, says Matthew Schenk, Ficano's chief of staff.
As many as 20 of them have returned to the county on separate contracts, collecting both pensions and wages funded by taxpayers, he confirms. This at a time when union workers have taken 20 percent pay cuts during the last two years, although the cuts were reduced to 10 percent last week.
Schenk spoke to Metro Times and other media after appearing today at a Wayne County Commission meeting where he discussed the Mullin payment and the ongoing internal review of how it occurred. Commissioners said they convened the special committee because of public outcry about Mullin and their own questions about county contracts.
Schenk said he could not put a dollar value on the roughly 40 other separation payments. He was also unable to put a value on Mullin's unused sick and vacation time payments, a question commissioners have specifically asked.
"That's part of the internal review," Schenk said.
It came to light in recent weeks that Mullin received the $200,000 severance payment when she voluntarily left her job as the county's economic development director to take a job with the airport, another county entity. After first saying she deserved the money, she then announced she would return the funds.
She's not alone
A review of records obtained by Metro Times finds payments to other county employees who retired or left jobs could also total multiple hundreds of thousands of dollars.
Those unused sick leave/vacation payouts and the up-to-24-weeks-of-salary payments are guaranteed as part of the existing "executive benefit plan," a several-page document that covers employment provisions of high-level, at-will employees in the county's executive branch.
But certain terms of the plan only covered such employees of county officials elected in November 2010 — Ficano and Sheriff Benny Napoleon — and granted the up-to-24-week payments to those who left between Nov. 1 of last year and April 1 of this year. Per the benefit agreement, if they quit or retired in that five-month window, they received a "lump sum payment at the time of separation equal to two weeks of wages for each year of service, not to exceed (24) twenty-four weeks."
Similar high-level at-will employees of the clerk, prosecutor, register of deeds and treasurer — who did not face elections in 2010 — did not receive the same separation payment terms though they are subject to other parts of the plan.
Double dipping
But nothing bars those managerial-level retirees from returning to work at the county on separate contracts, and Schenk says up to 20 of them did.
One of the returnees is Tim Taylor, the county's former head of human resources, who retired April 1. According to retirement board records, his monthly pension is $8,838. Other county records show he has a contract with an annual value of $117,062 effective May 2. Schenk said he could not provide information about Taylor's work. (An e-mail sent to Taylor's county address was not answered, and a woman who answered the phone in the personnel/human resources, when asked for help in reaching him, said she did not have his telephone number.)
In an email, county spokesman Patrick Dostine said Taylor was hired back part-time without benefits for 1,000 hours of work to help transition the newly hired director of personnel.
Taylor, incidentally, signed Mullin's controversial severance agreement, which was provided to media at the committee meeting. Schenk could not say why Taylor had signed Mullin's document.
Not only Taylor
Metro Times to-date has identified eight former full-time employees who now have contracts with the county. Schenk said he could not provide additional names of the up to 20 he said had returned to the county.
But he defended their employment.
"We've reduced our [total county] employment ranks by, I believe, 1,800 over the last six years," Schenk says. "Everyone isn't coming back under contract, obviously."
Some of the former employees who retired, began collecting pensions and then returned to work at the county, were brought back for "short-term transitions," Schenk says.
Overall, he called the re-hiring of a retired employee collecting a pension a "very rare circumstance."
He deflected questions about how it would appear to taxpayers who were not only helping fund pension payments but also the salaries of the returning appointees.
"You can look at the budget of Wayne County now as compared to where it was five years ago and the amount of money the taxpayers are paying to support Wayne County government is dramatically less than it was," he says. "The cost of government has gone down dramatically."
Others disagree
Chuck Bonza, an accounting supervisor in the Wayne County treasurer's office, learned of the 24-week payment provision when he joined the retirement board in January. Throughout this year he's seen employees retire — sometimes with other incentives — and receive the separation payments before returning to work on contract with the county.
"As a long-term employee, it's disheartening sometimes that people with shorter service are walking out with benefits that those who have been there a long time don't get," Bonza says. "And then they come right back to work here."