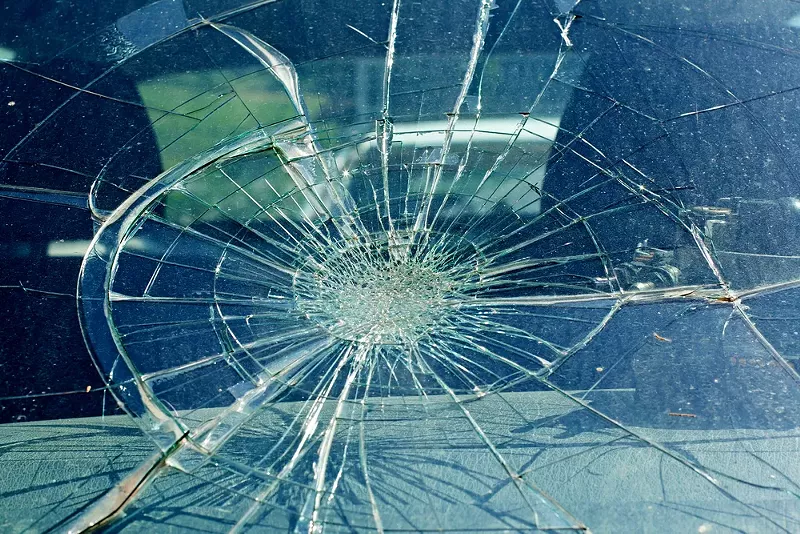 Three drivers have had pieces of concrete slam through their windshields on 1-696 in Warren during the past two weeks, according to WDIV.
The latest victim is a 42-year-old woman who was hit in side of the head, forehead was sliced, and sunglasses were snapped when a 10-to-12-pound piece of concrete flew threw her window. Her car crashed into a Pontiac Grand Prix, sending both vehicles careening into the highway barrier. The Grosse Pointe resident was knocked unconscious behind the wheel and is now in critical condition at St. John's Hospital.
Michigan State Police troopers classified this as "a wrong place, wrong time
accident."


She isn't the only driver who has faced a similar experience, though.
Anne Kraemer was hit by this football-sized concrete two weeks ago on Hoover Road, an identical location to the Wednesday's incident.
"All I remember was the glass flying all over me and the whoosh of the air and feeling that I was going to die," Kraemer said.
Kraemer now has the rock as a souvenir.
Nick Shade claimed he nearly endured an incidental fate while traveling on I-696 last week when the concrete hit his car "in the blink of an eye."
Shade, residing in Chesterfield, said the new window tinting on his car could have prevented the rock from hitting him in the face. His car is still being repaired after the chunk slammed through the window and landed on his dashboard.
Authorities and transportation officials are actively attempting to prevent these accidents from reoccurring.
Michigan State Police are sending the chunk from Wednesday's incident to the Michigan Department of Transportation. The Macomb Road Commission sent workers to put cold patch in the hole where the concrete came out of the ground.
Joseph Cooke is a summer intern at Metro Times.