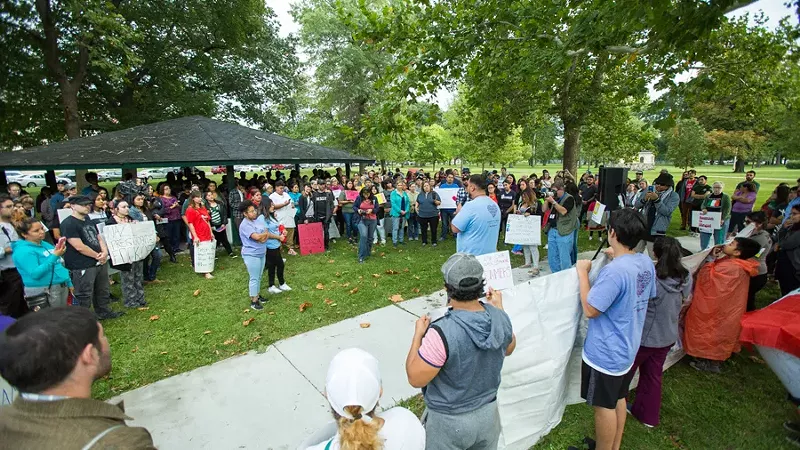 Dozens of people came together in Southwest Detroit Tuesday night for a rally in response to President Donald Trump's executive order to
end the Deferred Action for Childhood Arrivals
(DACA) policy. Organized by One Michigan, the Defend DACA Rally also drew organizations like Detroit Democratic Socialists of America and Michigan People's Defense Network.
"This means we are anxious and have to fight," said Araganzigh, a "Dreamer," or young DACA recipient, who held a sign that read "Humane Immigration Reform NOW."
"DACA was impermanent and now [...] we need something permanent, something concrete. It wasn't supposed to be rescinded and especially not without another plan," she said.
"Millions of people now live in fear about what the Congress will end up doing six months from now, [and] I would have hoped [the Democrats] would have gotten more done when they had majorities [in the House and Senate]."
Randy, a professional wrestler living in Southwest Detroit, also attended the protest in Clark Park. "The biggest wedge in [the immigrant] community is our own people," he said.
He expressed frustration with the focus on deportation of only "criminals" and not "hard-working" immigrants. He points out that many different aspects of immigrants' day to day life can make them considered "criminal" under current laws.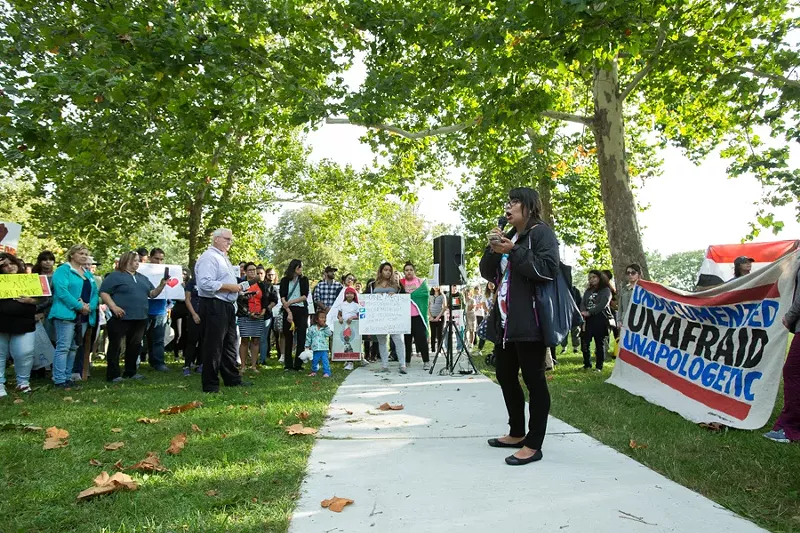 The rhetoric surrounding deportation of "criminals" is intentionally divisive, he said, as it was with the "war on drugs", and it's meant to create class divisions among immigrant communities.
"You wouldn't believe it, those who are lucky enough to get their paperwork done are the first to stand up to people who got here otherwise," he said. "That's the way we've taught our youth."
Throughout the rally, a procession of speakers described the pain and injustice they and their families have suffered at the hands of U.S. immigration policy. Many spoke of having family members deported, and how that has disrupted their households. The speakers described living in constant fear of merely having to do everyday tasks, expected of them by society, like driving without an ID or enrolling in school without documents.
One of the sources of the most anxiety is what the Trump administration — which has consistently sided with white supremacists and counts extremists in it's ranks — plans to do with information that young Latinos willingly turned over in order to file for DACA under the Obama administration.
"When you apply for DACA, you have to provide an address," said Naley, also a Dreamer. "They know everything about me because of this form."
"My mom is already planning on us having to leave [since she is undocumented and ICE knows where we live]. My younger sisters wouldn't have a home anymore because we wouldn't be able to support them."
Naley then began to cry.
"That's what scares me most is, what happens to them? ... What happens to my family?"
See a slideshow of photos from the "Defend DACA" rally here.