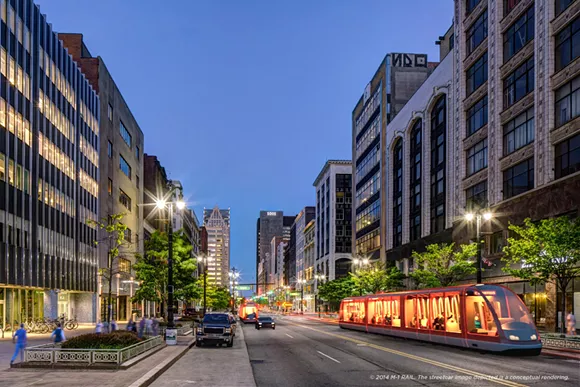 UPDATE (Friday, Sept. 19, 2014, 4:15 p.m.): M-1 Rail sent along a statement around 4 p.m. saying the full closure of I-75 has been postponed until a later date. The reason, the statement from COO Paul Childs says, is that construction crews doing preparatory work found a "utility conflict." Childs says: "As a safety measure, the M-1 Rail team and our partners at MDOT have decided more utility relocation is needed before we proceed with the bridge demolition. We are confident this won't adversely affect the final project schedule."

A 3.3-mile streetcar line along Woodward Avenue can't magically appear overnight. For weeks, organizers behind the long-awaited project have noted that a stretch of I-75 in downtown will have to close so the southbound lanes of the Woodward Avenue bridge above the highway can be demolished. That time has come.
From 9 p.m. tonight until 5 a.m. Monday, the highway between I-375 and M-10 will be closed. The Michigan Department of Transportation needs to tear down the bridge as part of the state's effort to revamp the entire road in tandem with M-1 Rail construction.
Paul Childs, M-1 Rail chief operating officer, says in a statement that event traffic for the Detroit Lions home game on Sunday should not be inhibited.
"Closing this section of I-75 this weekend is necessary for the project to stay on track, but we have been working closely with the Detroit Lions, Olympia Entertainment and others to accommodate their needs and provide information they can share with event-goers," Childs says. "To accommodate fans heading to Sunday's Detroit Lions game, crews will open the ramp from northbound I-75 to Grand River Avenue from 6:00 a.m. to 3:00 p.m. Sunday."
To wend your way around the mess: M-1 Rail says motorists heading northbound on I-75 will be re-routed to westbound I-96, to eastbound I-94, back to north I-75. Those heading south will head west on I-94, to east I-96, then to south I-75 again.
On Monday, there will be three lanes open in each direction of I-75 under Woodward, M-1 Rail says. The entrance ramp to north I-75 from Clifford Street will be closed until fall 2015.
Most importantly to note: the west side of the Woodward bridge over I-75 will not be accessible to pedestrians. M-1 Rail says pedestrians will have to use the east side of the bridge, either at Sibley or Elizabeth streets.
Not sure what the M-1 Rail project is? We put together a short guide to lay out the basic details
here
.