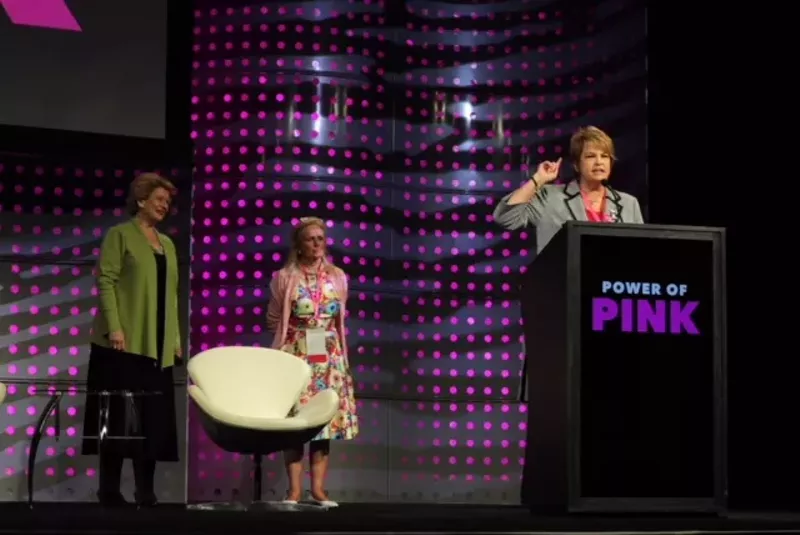 For the majority of its 102-year existence, Planned Parenthood, the nation's largest women's healthcare provider, has been under siege. Republican legislators in many states have passed measures to divert family planning funds away from Planned Parenthood, proving detrimental to low income, women of color. It's withstood a bludgeon of attacks from anti-abortion activists, including the killings of physicians who've performed abortions and the firebombings of U.S. clinics, that have, bizarrely, escaped the classification of terrorism. One of those perpetrators, Roger Dear — the man who shot and killed three people at a Planned Parenthood clinic in Colorado Springs in 2015 — was found unfit to stand trial last week. At time of arrest, he'd been heard rambling on about "no more baby parts."

Now, a new and monumental threat to Planned Parenthood, and ultimately the reproductive rights movement, is creeping toward the horizon. President Donald Trump's Supreme Court nominee, conservative federal circuit court judge Brett Kavanaugh, has suggested he'd overturn Roe V. Wade if the opportunity presents itself. Roe decided that a woman had a constitutional right to privacy, legalizing abortion in all states in 1973. Overturning the landmark judicial precedent would make abortion illegal again in some states, and Kavanaugh's potential confirmation could secure the deal, tipping the scales toward a 5-4 conservative majority in the highest court in the country.

In response, Planned Parenthood is going on the offensive, mobilizing and expanding its ranks. The Power of Pink, Planned Parenthood's three-day national leadership and organizing conference, took center stage at the Cobo Center in Detroit over the weekend, attracting a crowd of two thousand people from around the globe.

Despite the doomsday scenarios that have been played out in media after the Kavanaugh announcement, the atmosphere was electric and largely optimistic inside the ambassador ballroom Friday night. Planned Parenthood President and former CEO Cecile Richards and Executive Vice President Dawn Laguens headlined the speaker lineup, made up of heavy-hitters in the worlds of activism and politics. Michigan's delegation of speakers included Detroit's 6th district city councilwoman Raquel Castañeda-López; indigenous rights activist Christy Bieber, a member of the Anishinabe tribe who resides in Southwest Detroit; Democratic Senator Debbie Stabenow; Representative Debbie Dingell; Kim Jorgensen Gane, a mother of four from Western Michigan who had an abortion when she was 18; and Jai Bell, a 17-year-old peer educator with the Detroit Public Schools Community District.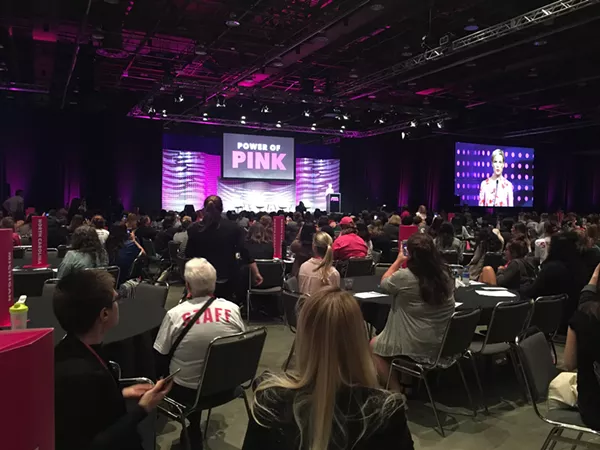 The selection of Detroit as the site for this year's convention was not happenstance; a theme that reverberated throughout the night
was how the city served as a battleground for progressive issues such as poverty, housing, the environment, immigrant rights, and racial justice. Direct parallels were made between the city's
much publicized
renaissance and, in a sense, the political rebirth of Planned Parenthood.
"You are in a city that is coming back, that is moving forward," Stabenow told the crowd. "We're here to say that while Detroit is moving forward, we as women aren't moving backward."
The battle cry of the night was the call to action at the ballot box for the upcoming midterm elections and to prepare to fight for reproductive rights if the overturning of
Roe
becomes reality. In the Michigan governor's race, both
Republican candidates Attorney General Bill Schuette and Lieutenant Governor Brian Calley both share
an pro-life
stance. If
Roe
is overturned,
the state could very well revert back to a 1931 law that criminalizes abortion, which has remained on the books
.
"It would be crushing for anyone needing an abortion. In Detroit a lot of our patients are living in poverty, face housing issues, or could be without clean and safe drinking water, like in Flint," Emily Clancy, Planned
Parenthood Advocates of Michigan's Detroit community organizer said one-on-one. "It would be devastating to our communities. The upcoming elections
are a pivotal moment in a time we are vulnerable."
The state's funding formula for the family planning budget
already demerits organizations affiliated with abortion services
, which is known as "the Michigan model" that other states have mimicked, according to the Guttmacher Institute, a reproductive rights think tank. In addition,
Michigan's informed consent law
requires a health care provider to give parental and prenatal information to a patient 24 hours before undergoing the procedure. (They must also, by law, show pictures of fetuses at the similar gestational period of development as the
patient's
.)
Clancy pointed out on Saturday the need for the conversation around reproductive health to encompass more than a fissure between pro-life and pro-choice, as PP also delivers services in birth control, contraception, HIV and STI testing — all of which would could be similarly defunded if the organization's Title X funds are reappropriated elsewhere (most of the Planned Parenthood clinics in Michigan do not offer abortion services) and if the Trump administration's
proposed policy denying federal funds
to clinics who provide abortion counseling or referrals for abortion services, a reinstatement of a domestic "gag rule," goes into effect. This has resulted in a local outreach campaign to engage local communities and recruit volunteers for more boots on the political ground.
In the storytelling segment of the opening ceremony, Kim Jorgensen Gane, a mother of four from Western Michigan, told her abortion story. She underwent the procedure when she was 19 years old in 1985 at a Planned Parenthood clinic in Kalamazoo. A year later,
the clinic was firebombed
.
"I remember hearing it on my car radio and thinking, 'Thank God, no one has to know,'" she revealed to the audience, holding back tears. "I never once regretted my abortion. It was the right choice for me at the time. And made me a better mother to the children I did choose."
Multiple speakers petitioned the convention to take one step further, encouraging them to seek political office themselves in their respective districts and counties, with all the trappings of a political rally.
"This conference is about leadership and pushing yourselves outside comfort zones to see yourself in those leadership positions," Councilwoman Castañeda-López said. "Until we start stepping up to the plate and put ourselves in those leadership positions we're not going to see the type of change we want to see in our neighborhoods."
All of the panels and workshops on Saturday and Sunday tackled the challenges facing the organization through an intersectional lens. There were talks about the impact of gun violence, immigration, and environmental hazards on reproductive health care. Even in his absence, Kavanaugh cast a pall over the ballroom and inspired hisses and boos at the mention of his name, and a workshop named "#UnfitToJudge" was devoted to the subject. To combat media disinformation tactics,
TrackingTrump.org
was developed to annotate and give rejoinders to anti-PP news articles. During the opening ceremony, managing director of communications Brittany Caballero announced a planned expansion of virtual healthcare services and trans health care services at clinics.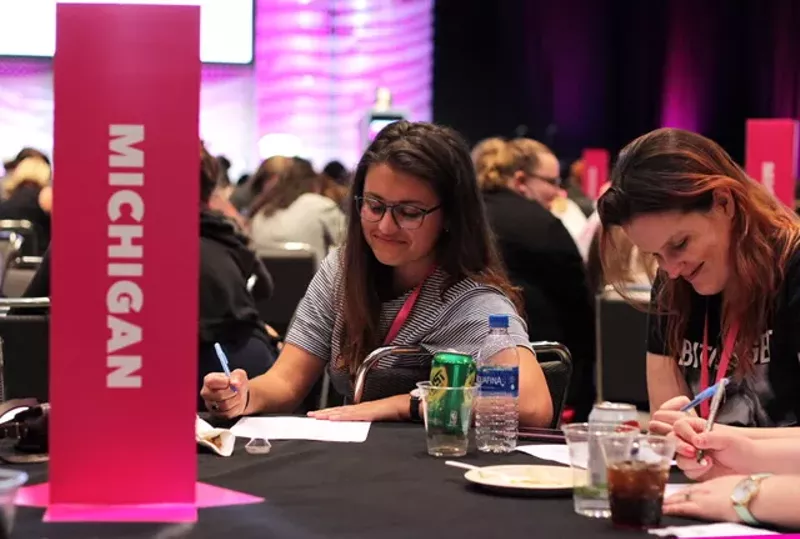 Phiwa Langeni — director of Salus Center, a queer community space in Lansing and a black trans clergyman — recounts the apprehensiveness of trans people to seek medical care.
"We know screening helps prevent or catch things early on, but then you're concerned about being misgendered and adding trauma upon trauma," Langeni said. "The fear of going to a place that offers you care, and then you get there and you have to explain to them how to give you care and teach them how to treat you."
"Even to make a tiny shift like that is not tiny at all because it humanizes a person who does not identify as a woman to allow them to see themselves as
being able to access care and potentially saving someone's life."
The optics of the orators themselves, all of whom represented a panoply of ethnicities, gender expressions, religious affiliations and ages, served to reaffirm a transformative shift toward intersectionality, an analytical framework that identifies a nexus of oppression amongst individuals and groups, which has heightened visibility in progressive circles in recent years. Notably, many of the federation's leadership roles have been filled by queer women of color.
This ramped-up engagement with communities of color and the LGBTQ community seems like a fitting corrective in the broader context of historical feminist movements, when these groups were often excluded from participation. The heart of the intersectional strategy is ethically driven, but beyond that, it is a deft move, as the organization is exploring avenues to broker and sustain political power. Building alliances across difference
produces
strength in numbers.
It's not called a pink wave because it sounds pretty, after all.
"Marching is great. Getting pussy hats? Great. Going to townhall meetings? Great. But voting? That is the whole idea," Planned Parenthood's Cecile Richards said. "That's how we're going to change power. We've got a lot of work to do."


Stay on top of Detroit news and views. Sign up for our weekly issue newsletter delivered each Wednesday.