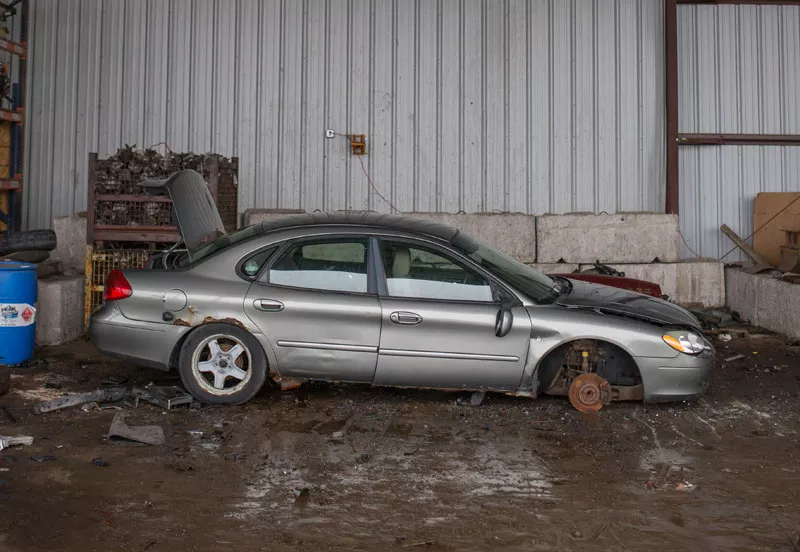 When Don Foss started his career as a car salesman, he recognized early on that most of his prospective customers had shaky credit, leaving them with few options for financing to buy a vehicle. So in 1972, he started subprime auto lending company Credit Acceptance Corporation to fill that void. He knew lending money to buyers with low credit posed an inherent risk, and he knew the business couldn't solely be focused on closing sales. It had to excel at collecting loan payments too.
"I began to realize that, even as I worked as hard as I possibly could at selling cars, we would have to do better on the collections side," Foss said in 2009, reflecting on how he'd managed to grow and sustain a business that had provided financing to low-credit car buyers for nearly 40 years. It certainly ended well for Foss, who stepped down last year, netting $128 million upon retirement by selling off his company shares.
Indeed, over time, the collections side of the business has transformed into a fundamental pillar of the Credit Acceptance model, sparking numerous government investigations and lawsuits over alleged deceptive practices, while exposing some of its customers to ceaseless debt.
The company has acknowledged it repossesses about 35 percent of all vehicles it finances, and its aggressive methods to pursue buyers for non-payment is widely known. Debt collectors retained by the company chase after defaulted buyers for as long as 20 to 25 years, garnishing their wages and recouping sums that sometimes exceed two times the original loan amount.
But it's even worse than many know. The extent of Credit Acceptance's well-oiled debt collection machine is perhaps best illustrated in the company's backyard: Detroit.
In 2017, one out of every eight civil lawsuits filed in Detroit's 36th District Court, the largest district court in the state of Michigan, was a collection case brought by Credit Acceptance, according to an analysis of publicly available court records by Jalopnik. Credit Acceptance alone — a company meant to service subprime car loans under the cheerful motto of "We change lives!" — absolutely dominates the civil case volume of one of the country's busiest courts.
"Oh my god," says Robert Lawless, a law professor at the University of Illinois who co-authored a study this year that examined the effect debt collection suits have on consumers who ultimately file bankruptcy. "That's an incredibly high number."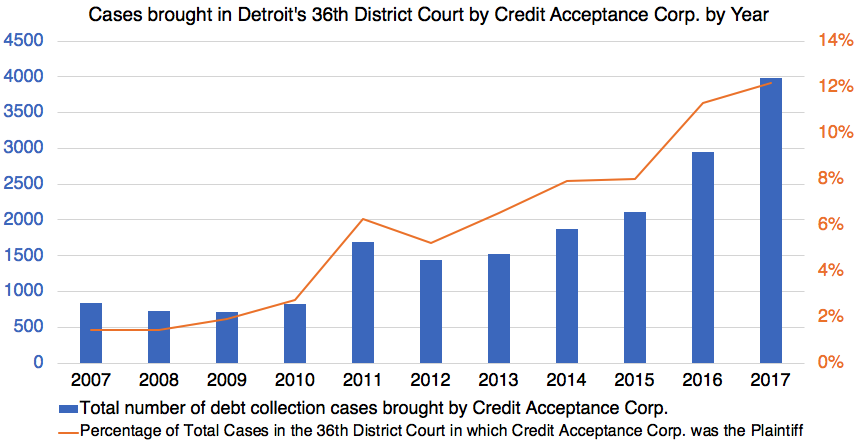 The issue was raised in three reports by a legal transparency nonprofit group called PlainSite over the last year. PlainSite had the idea to scrape court records from Detroit's 36th District court to obtain information about CAC. It also made its source code for analyzing the Detroit court records publicly available; Jalopnik independently verified and expanded on PlainSite's methods by building its own software to scrape the records data, and conducting additional interviews.
Jalopnik's analysis also raises the specter that Detroit's court system, which teetered on insolvency just five years ago, is now staying financially afloat with help from the fees it collects in cases filed by Credit Acceptance's debt collectors. The nonprofit Center for Responsible Lending, in a study earlier this year on debt collection suits clogging Oregon courts, pointed out that consumers there have to pay an appearance fee to the court before they can file a response to contest the debt, or other court fees.
"It costs to file a case in the first place, it costs to file a complaint, and then — as we found in Oregon — it costs a decent amount of money, a couple hundred dollars, to file a response," says Lisa Stifler, deputy director of state policy at the Center for Responsible Lending. "It's not all cases, but it's money that, yes, if courts were funded by states more fully, then perhaps some of those fees wouldn't need to be as high because they have operating budgets that are covering some of those expenses. There's some sense that court filing fees do end up paying for running the courts."
Reached by phone, Foss deferred comment to Credit Acceptance. The lender didn't respond to a request for an interview, and did not answer a list of detailed questions.
The lender's practices have had lasting implications in Detroit, where one out of every three residents live in poverty and, with shoddy public transportation, a car is virtually essential for work. About 70 percent of the city's residents have to commute to jobs in the suburbs.
In other words, the number of debt collection suits makes a bad situation in Detroit even worse. The loosely regulated auto lending market lets dealers arrange loans with exorbitantly high interest rates, financed by companies like Credit Acceptance.
High interest is associated with a higher chance of default, and if a low-income driver falls into default, loses their car to repossession, and then gets hit with a collections suit, they run the risk of Credit Acceptance garnishing up to 25 percent of whatever wages they're earning, and possible insolvency. A study published in July found a borrower who loses their vehicle to repossession is twice as likely to file for bankruptcy.
"The real concern should be that borrowers who are unaware of the consequences of default/repossession are taken advantage of," says Erik Mayer, a finance professor at Southern Methodist University and co-author of the study. "In some cases, lenders may know the borrower won't be able to repay the loan in the end, but it may still be profitable to make the loan due to high interest rates, fees, and the ease with which they can repossess the car in the case of default."
By analyzing publicly available records from Detroit's 36th District Court dating back to 1995, Jalopnik found:
• Credit Acceptance filed at least 32,799 collection suits against 39,714 Detroit car buyers, more than 4 percent of all available civil cases.
• In 2017, the company's collection suits represented 12.18 percent of all 32,660 publicly available civil cases in Detroit, up from just 1.45 percent in 2007. (The court reports that it handled more than 43,000 civil cases last year, and says it's "not responsible" for any omissions in the online 36th District Court Case Inquiry System. At that rate, Credit Acceptance still comprised over 9 percent — or nearly one in 10 — of the court's caseload last year).
• Jalopnik counted a "case" as an action against one or more defendants; in some instances, two or more defendants are named in the same suit.
• The company secured judgments against 6,556 defendants that were eventually paid off in full. 6,150 of these judgments were default judgments — meaning cases when the car buyer didn't show up to defend themselves. Defendants sometimes didn't show up in court because they weren't even notified to appear, several consumers say. In those cases, Credit Acceptance garnished at least $27.5 million in wages and income-tax refunds.
• Lawsuits against at least 33,158 Detroit car buyers remain pending. In those cases, Credit Acceptance has secured 22,802 default judgments worth at least $162.6 million. It's unclear how much has been garnished and collected from those suits to date, but records show that 40 percent have been ongoing for at least 10 years, and at least 2,200 have been pending for more than 20 years.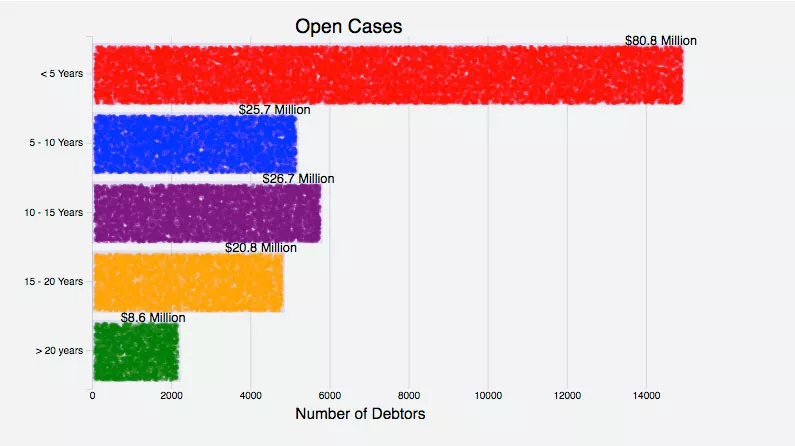 It's unclear exactly what led to the situation in Detroit, although the tough economic situation for the city and its residents in recent years has certainly contributed. The company has been investigated by regulators for potential wrongdoing, and it has faced accusations in cases across the U.S. of duping car buyers into taking on untenable loans, however no current probes in Michigan against Credit Acceptance appear to exist.
But what's clear is that, in recent years, Credit Acceptance has sharply increased the number of debt collection cases it has filed in the Motor City — and in a state where its practices have been called into question before. Credit Acceptance's main debt-collection attorney was indicted in 2005 for falsifying hundreds of court documents, claiming he'd notified consumers to appear in court when he hadn't.
'It's like a lawsuit mill. ... They have pretty free rein to file what they want.'

tweet this
Credit Acceptance had also been accused in the past by a suburban Detroit court of providing insufficient documentation to support its requests to garnish borrowers' wages. The court's clerk had discovered reams of errors in its filings, but when Credit Acceptance sued the court for subjecting its garnishment requests to more scrutiny, the Michigan Supreme Court sided with the lender, leaving courts barely any leeway to substantively review the accuracy of its filings.
"With the Michigan Supreme Court case, it makes it very easy for them to do this," Stifler says. "It's like a lawsuit mill. They don't need to make sure they have the paperwork in order or be absolutely sure that what they say is owed is actually owed. They have pretty free rein to file what they want."
The company has long portrayed itself as a do-gooder, a lender of last resort for consumers who otherwise had no other options. But consumer advocates characterized Jalopnik's findings about Detroit as alarming, and say it calls into question whether Credit Acceptance is even providing its customers with a sound loan product.
The figure "is pretty striking in terms of numbers," Stifler says. "If you're not putting out an affordable product, or if you're putting out a predatory product and/or not looking at whether people can actually repay it," she says, "the fact that [there are] high collection lawsuits is not all that surprising."
"It's entirely structured to be about collection," says Missouri attorney Bernard Brown, who has waged legal battles against Credit Acceptance since the 1990s. "That's fundamental to their model."