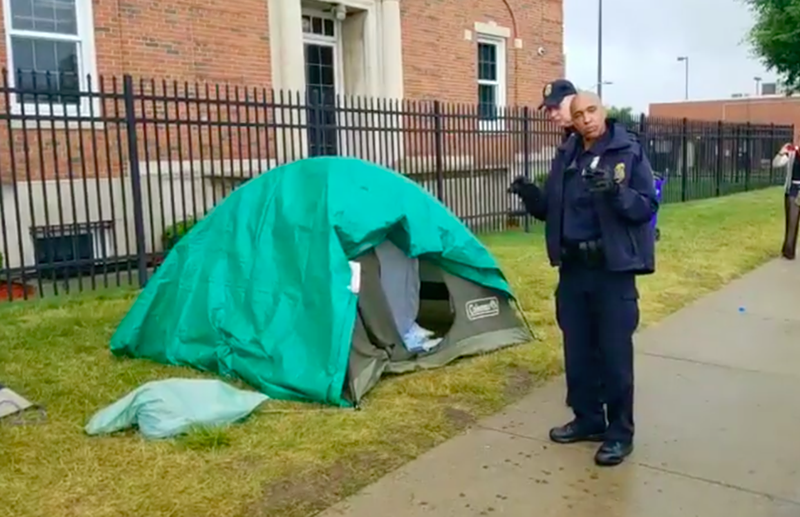 Homeland Security protective police officers have dismantled an
"Occupy ICE" encampment in Detroit
that played home base for five days of protests calling for an end to the separation of immigrant children and their families.
In video posted by the
Metro Detroit Political Action Network
, officers can be seen taking down two tents in front of an Immigration and Customs Enforcement office on Jefferson Avenue as demonstrators shout "Shame! Shame! Shame!" The teardown came after a Wednesday deadline by which demonstrators had been ordered to dismantle the camp themselves.
Despite the removal of the tents and a judge's ruling that families must be reunited, protesters say they'll continue their action in front of the building until Saturday, when
nationwide protests against President Donald Trump's immigration policies
are scheduled to take place.
A federal judge ruled Tuesday that immigration authorities must
unite families separated along the border
within 30 days. Trump last week issued an executive order that would end the practice of separating families alleged to have entered the country illegally and replace it with the detention of children with their parents until the end of their immigration proceedings.
"The separation of immigrants, children from their parents, and now the detention of whole families indefinitely is inhumane, and there is no legal or ethical way to justify it," an Occupy ICE protester told the
Free Press
Wednesday
.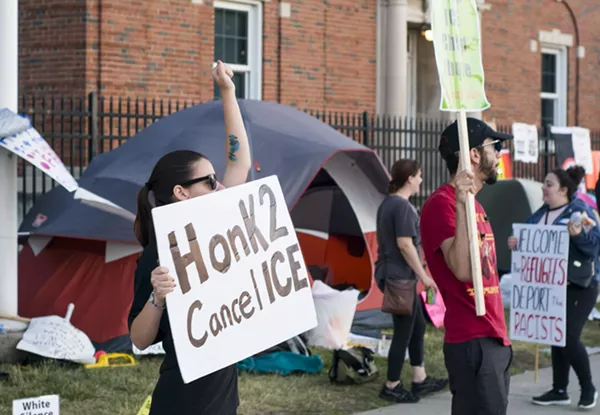 The Detroit action followed a protest in Portland that forced a days-long shutdown of that city's ICE office. Activists here had called for a shutdown of the nation's detention centers, immediate reunification of children with their families, asylum for all immigrant parents detained trying to enter the United States, and the abolition of ICE.
Detroit protesters say they had some success in hampering ICE operations when they blocked some employees from entering the building Monday morning. A media relations contact with ICE's Detroit field office did not respond to email and telephone inquiries about the impact of the protest.
In Portland, at least
eight people have been arrested
on Thursday as Homeland Security protective police officers attempt to put an end to the demonstration and reopen the ICE office.
Stay on top of Detroit news and views. Sign up for our weekly issue newsletter delivered each Wednesday.