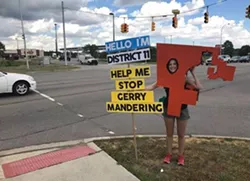 The group
Voters Not Politicians
is still working to gather the 316,000 signatures needed to get a proposal on the November 2018 ballot to end gerrymandering of electoral districts.
The non-partisan, non-profit group is proposing amending Michigan's state constitution to establish a 13-member citizens' commission made up of five independent voters and four each from the two major parties.
Below is the list of locations where you can find Voters Not Politicians volunteers collecting signatures in the coming days.
Friday, Oct. 13
Ann Arbor: Tom Paxton concert at The Ark
Ann Arbor: Zombie Race in the Arb at UM Nichols Arboretum
Midland: Used book sale at Grace Dow Memorial Library
Romeo: Art & Wine Walk in downtown Romeo (S. Main St.)
Romulus: The Continuum convention at Radisson Detroit Metro Airport
Albion: Irene's Superior Unisex Salon
Battle Creek Books
Charlevoix Apple Festival (Bridge Park)
Charlevoix Apple Festival (East Park)
Chelsea: New Chelsea Market
Ypsilanti: Downtown Library mural unveiling
Lansing: Empty Bowls at Troppo
South Haven: Black River Books
Jackson: Grand River Farmers Market
Owosso: Oktoberfest at Owosso Farmers Market
Holland: Fall Fest at intersections along 8th Street
Flint: Art Walk at Saginaw & Court
East Lansing:
Great Gatsby
performance at Wharton Center
Lansing: Kate Peterson campfire concert in an Eastside backyard
Saturday, Oct. 14
Ann Arbor: Matthaei Botanical Gardens Trail Opening
Ann Arbor: Old Westside Art Hop inside 705 Madison Place (11am-5pm)
Ann Arbor: Peace All Stars benefit concert at Vineyard Church
Ann Arbor: Solidarity march for peace & justice at Liberty Plaza
Dexter: Trick or Treat on the Trail at Hudson Mills Metropark
Dowagiac: Under the Harvest Moon outside Shabby Bou-Chic
Midland: Used book sale at Grace Dow Memorial Library
Port Austin Farmers Market
Romulus: The Continuum convention at Radisson Detroit Metro Airport
Shelby Township Farmers Market at Packard Proving Grounds
Utica: Brew & Fall Fest at Jimmy John's Field
Utica: Food truck rally at Utica Public Library
Midland: near Farmers Market at Ashman & Ann
Ypsilanti: Rosie the Riveter world record attempt at EMU Convocation Center
Albion: Irene's Superior Unisex Salon
Chelsea: New Chelsea Market
Holland: Farmers Market
Jackson: Grand River Farmers Market
Marquette: Farmers Market at Marquette Commons
Tecumseh: Appleumpkin at Evans & Chicago
Battle Creek Books
Escanaba: Farmers Market
Lansing: Apple Butter Festival at Fenner Nature Center
South Haven: Black River Books
Holland: Fall Fest at intersections along 8th Street
East Lansing: "Great Gatsby" performance at Wharton Center
Escanaba: Uptoberfest at Escanaba Marina
Owosso: Oktoberfest at Owosso Farmers Market
East Lansing:
Great Gatsby
performance at Wharton Center
Sunday, Oct. 15


Ann Arbor: Backroad Boys concert outside The Ark
Ann Arbor: CROP Hunger Walk at Trinity Evangelical Church
Midland: Used book sale at Grace Dow Memorial Library
Romulus: The Continuum convention at Radisson Detroit Metro Airport
Warren Farmers Market at Warren City Square
Chelsea: New Chelsea Market
South Haven: Black River Books
Tecumseh: Appleumpkin at Evans & Chicago
East Lansing:
Great Gatsby
performance at Wharton Center
East Lansing: Jay Leno performance at Wharton Center
Monday, Oct. 16
Battle Creek Books
Caro Area District Library
South Haven: Black River Books
Chelsea: New Chelsea Market
Holly Township Library
Clinton Township: Macomb County League of Women Voters redistricting presentation at Clinton Township Senior Center
Big Rapids Community Library
Mason: Bestsellers
Tuesday, Oct. 17

Lansing: The Exchange
Albion: Irene's Superior Unisex Salon
Battle Creek Books
Chelsea: New Chelsea Market
Ann Arbor Township: Washtenaw Community College Student Center
Marcellus: News & Moorman Printing storefront
Midland: Grace Dow Memorial Library
Waterford: L.A. Cafe
Wednesday, Oct. 18
Holland Farmers Market and Downtown (along 8th Street)
Battle Creek Books
Chelsea: New Chelsea Market
Ann Arbor Township: Washtenaw Community College Student Center
Marcellus: News & Moorman Printing storefront
Escanaba Farmers Market
Caro Area District Library
Mount Clemens: Pints & Petitions at O'Halloran's Public House
Detroit: Redistricting Reform Town Hall at Wilder Branch Library (7 Mile & Van Dyke)
Thursday, Oct. 19
Battle Creek Books
Chelsea: New Chelsea Market
South Haven: Black River Books
Midland: Grace Dow Memorial Library
Pigeon: Redistricting Reform Town Hall at Pigeon District Library (3pm & 7pm)
Jackson: City candidate forum at Michigan Theatre
Ann Arbor: Redistricting Reform Town Hall at Pointless Brewery & Theatre
Ypsilanti: Interfaith Council for Peace and Justice presentation on gerrymandering at Brown Chapel AME Church