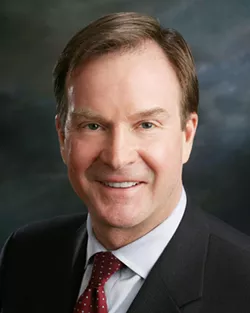 Republican gubernatorial candidate and Attorney General Bill Schuette has disclosed his assets with the hope that it will make people trust him more, which means we now have a chance to check out all the cool shit Dow Chemical money can buy!
But first — the reason for the disclosure.
Schuette released the financial statement after rival candidate and Lt. Gov. Brian Calley called him out for misleading Michiganders by claiming his assets were in blind trusts when he had held onto valuable Virgin Island properties he came to own while AG. Thursday's disclosure shows that indeed — Schuette owns millions of dollars worth of property in the Virgin Islands, in what his campaign is referring to as "non-blind" assets in a second trust.
"Not only were half of his assets not in a blind trust but he had been transferring them and selling them using taxpayer funded employees in in state offices," says Calley campaign spokesman Mike Schrimpf.
Schuette's camp did not immediately respond to a request for comment.
According to the
Detroit News
, Schuette initially denied knowledge of the real estate transfers in question when they came to light during a forum in early May. Later, his campaign revealed the property was inherited in 2014.
But the Calley camp wants more information out of Schuette — it to see tax returns from the trust so people can know whether he paid taxes on the inheritance.
"The way he has tried to hide the ball on all his assets makes it even more incumbent that he has to release his tax returns," says Schrimpf.
Ok, now back to the stuff. Schuette has $13 million in assets. Unfortunately, the breakdown isn't all that exciting — no jets, no exotic animals. Just a bunch of homes or partial interests in homes. Worth noting, though, that Schuette only makes makes $112,000 a year as AG — so he has Dow Chemical daddy/step-daddy money to thank for quite a bit of his bounty.
Here's the rundown:
• Blind trusts: $6.5 million
• Land parcels in the Virgin Islands: $4 million
• Main home in Midland: $688,000
• Second home in the U.P.: $555,000
• And another inherited home in Colorado: $211,000 (half interest)
• Another Virgin Islands home shared with his sisters: $1.1 million
You can check out the details below.
Stay on top of Detroit news and views. Sign up for our weekly issue newsletter delivered each Wednesday.