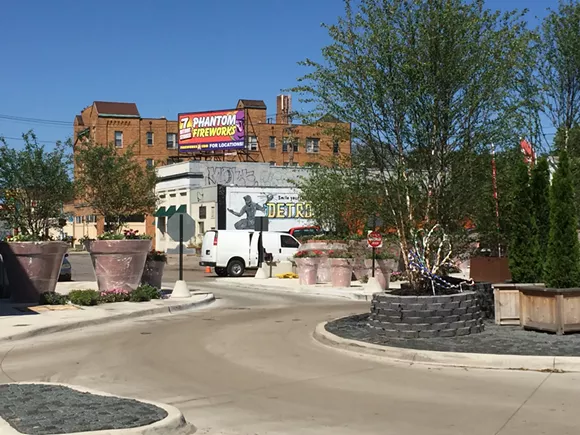 According to
a recent MLive article
, large planting pots have been placed at the long-disputed intersection at Kercheval Avenue and Alter Road on the Detroit and Grosse Pointe Park border.
"Basically it's simply beautifying that little block area," Grosse Pointe Park City Manager Dale Krajniak told
MLive
. "We're expanding our market. We made sure we left all pedestrian vehicular access readily available, so everyone should find it suitable."
The intersection has been
scandalous
ever since Grosse Pointe Park built a farmers market there last year. The market's tan and green sheds blocked an intersection that had been "open for nearly 100 years," Detroit Mayor Mike Duggan said
in an interview last year
, adding, "to have someone throw sheds in the middle of a commercial thoroughfare is ridiculous."
Grosse Pointe Park later agreed to open the intersection back up, but the thoroughfare has now been whittled down to a one-way street that goes from Detroit to a roundabout in Grosse Pointe Park.
Residents on the Detroit side of Alter have strong opinions on the border. Despite statements by Grosse Pointe Park government officials, citizens believe the farmers market and roundabout have other purposes.
"It's dividing the two districts. I don't think that it's a good idea because you can't easily access Grosse Pointe from this side of Detroit," said a woman who has been living in the area for ten years. "I think it's mostly a city issue with the high crime in the area, but Grosse Pointe has nowhere to come for excitement. I don't think it's a racial issue as much as a city issue."
---
Matt Harmon is an intern for Metro Times.