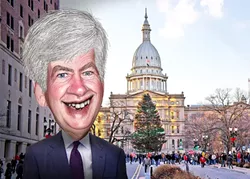 That was short-lived.

The Detroit News is reporting that Gov. Rick Snyder is cutting ties with one (yes, that means there's more than one) of the PR firms he brought on this winter to help him navigate the murky, shameful waters of the Flint water crisis.
Mercury Public Affairs, a Washington D.C.-based company is getting the axe after just two months. Ari Adler, the governor's new spokesperson, told the News that this was because the agreement with the firm was "to provide short-term crisis communications support following the emergency declaration in Flint."

Aware of the general discontent over the governor using public tax dollars to pay for his Flint-related attorneys, Adler pointed out that Mercury was paid with money from the governor's 501(c)4 "Moving Michigan Forward," which, according to its website, is a "nonprofit fund utilized to offset the costs of running state government." Moving Michigan Forward's website says its Flint funds will go toward "constituent outreach efforts aimed at increasing awareness of resources available to Flint residents, including updating them on where to find water resource sites, bottled water, water filters for individual homes and businesses, replacement filter cartridges, water testing kits, and more."

Mercury, of course, is not the only PR firm being utilized by the governor. In January, he also hired Bill Nowling of Finn Partners, a New York firm with offices in Detroit.

We should not be surprised to learn that both Nowling and Mercury PR have previous ties to the governor.

According to a January article from the Detroit News, the governor's Chief of Staff Jarrod Agen is married to a woman who has worked for Mercury, and Nowling was a spokesman on Snyder's 2010 campaign and also a press secretary for former Detroit emergency manager Kevyn Orr.

As US Rep. Dan Kildee, D-Flint Township, wrote on Twitter in January: "Gov. Snyder, the #FlintWaterCrisis is an ongoing public health emergency, not a public relations problem."