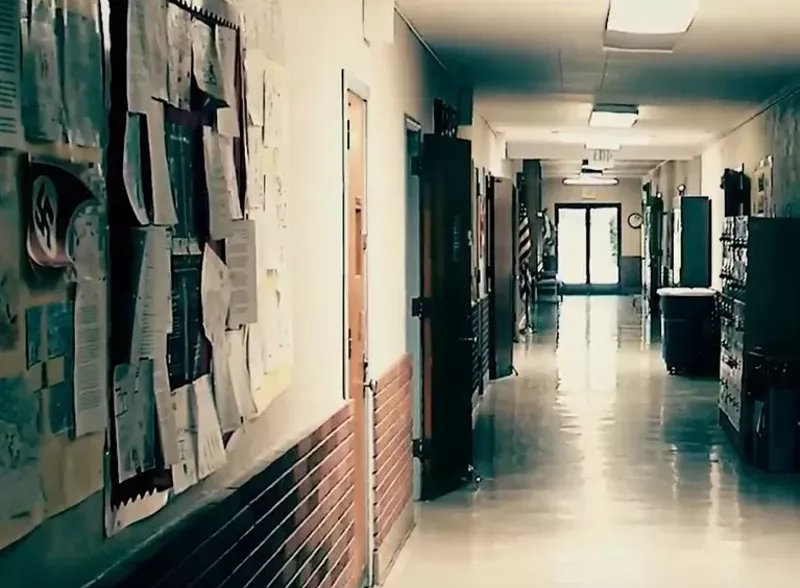 Well here's something that feels like an increasingly rare sight these days — a Republican politician 1) admitting they were wrong about something and 2) distancing themselves from the alt-right. But that's exactly what Michigan Senate candidate John James did following backlash on Monday after it was discovered that one of his TV spots featured a
prominent Nazi swastika
.
James convened a live press conference to address the controversy, which he called "a terrible error on our part":
"It kind of stinks that we have to be here under these circumstances, but I think this is an excellent opportunity to put on display what we would like to see in Washington. I was taught by excellent leaders the best of which being my mom and dad to do the right thing, even when it's hard. I need to fess up and admit this was a terrible error on our part. We should have caught this error and we didn't. There's no excuse."
When a woman in the audience asked where the footage of the swastika came from, James said he didn't know, but he believed it was stock art. He maintained that the responsibility for the images in the ad ultimately was his, however.
"The leadership I learned in the army is we don't point fingers," he said. "We point thumbs."
Then, when asked if the ad would be pulled, James said it was serendipitous because the campaign was ready to unveil a new spot anyway. He shared the new clip to his audience, which almost seemed to address the Nazi controversy head-on, ending by quoting the Civil Rights anthem "We Shall Overcome."
Of the new clip, he said:
"I believe this is the perfect opportunity to talk about my father's story. For those who aren't familiar, my father was born in the Jim Crow South. ... He's seen the horrors that racism brings. And there are still many that look like me who still haven't gotten out of the racial discrimination that holds too many people down in the city of Detroit, Flint, Pontiac, Saginaw, areas of this state that look like the riots happened yesterday. Areas of this state where people are in a new caste system and they're unable to get out. People who look like me who are afraid to go to different parts of town because they might get held up by someone who looks like them or somebody's who's in a uniform. We need to make sure that we're taking care of all Americans. We need to make sure that we're giving the police the training and the resources they need. And being a black man being raised by Southern Democrats, I recognize that nobody owns patriotism, nobody owns social justice. We are all Americans, and we have to do both."
James also went on to say that he "loves everyone and denounces hatred and bigotry in all its forms." Previously, he caught flak for misogynist comments, including saying
women want men to lead them
and
joking about sexual assault
.
You can watch James' full press conference below
.

Stay on top of Detroit news and views. Sign up for our weekly issue newsletter delivered each Wednesday.