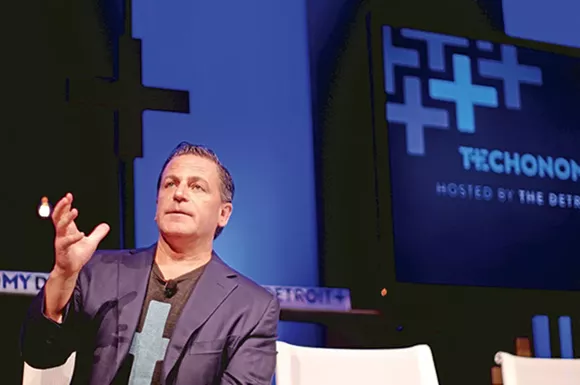 Update 7:00 p.m., July 1, 2015: Detroit News response to Gilbert's radio interview has been included below.

In response to
a data-driven investigative report by The Detroit News on Quicken Loans' record in Detroit
, the mortgage lender's founder Dan Gilbert took aim at the coverage in a WJR interview on Wednesday.
Speaking on conservative Frank Beckmann's show Wednesday, Gilbert claimed the
News
' reporters — Joel Kurth and Christine MacDonald — who co-wrote the story were unprofessional in their approach. The pair have won multiple awards over the years for their work at the
News
.
"She seems like a pretty smart girl," Gilbert
said on WJR
of MacDonald, who is an adult.
As part of
a series that examines the effect of foreclosures in Detroit
, the
News
found Quicken Loans, which relocated to the city in 2010, "had the fifth-highest number of mortgages that ended in foreclosure in Detroit over the last decade — and half of those properties are now blighted."
In an interview, Quicken told the newspaper: "It's very hard to make any causation between these loans and the fact that (homeowners) walked away or could not afford the payments and some eventually became blighted."
According to the
News
' meticulously reported investigation, about one-in-four loans — 24 percent — Quicken issued in Detroit was considered "subprime," meaning they "were written at 3 percentage points or higher than treasury rates of comparable maturity" — showing the company wasn't a "major player in the subprime mortgage industry" active in Detroit between 2004-2006. About 68 percent of all loans in the city issued during that time were considered subprime, city records show.
In the chat with Beckman, Gilbert — who has been credited with reviving a sleepy downtown — said that "ninety percent of the problem" in Detroit was over-assessed properties and extremely high property taxes. He also plainly suggested there needs to be more accountability of journalists.
"Someone needs to hold these muckracker [sic] people accountable," he told Beckmann. Gilbert has been
vocal in the past over previous reports
on Quicken Loans' record.
Gary Miles, the
News
' managing editor, said Wednesday evening that Gilbert's remarks were disappointing.
"Mr. Gilbert didn't so much challenge the facts of our reporting on foreclosures and blight in Detroit as he did attempt to assail the character and reputation of two of the most trusted and decorated journalists in Detroit and the credibility of The News," Miles said in a statement to
MT
. "That's disappointing. We're happy to discuss our findings or analysis, as we did with him and his team prior to publication. Their positions were well represented. To respond to the name-calling would only serve to devalue the important work that was done here."
Quicken executives have asserted the company didn't issue subprime loans.
"Every loan that we did in the City of Detroit in the 10 years they studied — between 2005 and 2014 — were conventional FHA, VA loans with average interest rates of 6%," Gilbert said in the WJR interview.
Gilbert told the
News
he believed subprime loans were any with interest rates above 13 percent, similar to what a company spokesperson conveyed to
MT
in
a cover story last fall
.
"[I]f you are using the word 'subprime' as is most commonly used in today's world, which refers to toxic loans with 12%, 13%, 14% or even higher interest rates that was responsible for the collapse of the US mortgage market and even the US economy: NO, QUICKEN LOANS NEVER PARTICIPATED NOR ORIGINATED THESE TYPES OF LOANS," the spokesperson wrote in an email, loudly.
Records
MT
reviewed showed in one instance that, in 2007, Quicken issued a $171,000 loan to a Detroit homebuyer that was a five-year hybrid adjustable-rate mortgage. This initially allowed the borrower to make payments that didn't even cover the monthly 6.875 percent interest cost.
At any given time, the borrower was afforded the ability to pay a larger amount to pare down the principal. After five years, the interest rate could then begin to change, records show, with a maximum interest rate capped at 11.875 percent. At that point, the borrower could have begun to make interest-only payments. But the buyer failed to make payments and lost his home to foreclosure in 2010.
Analyses of the industry from 2004-2007 have shown that as many as 90 percent of borrowers who received this type of loan — called an option-ARM — only made the minimum less-than-interest payment each month. One veteran of the industry previously described option-ARMs as being
"guaranteed to blow up."