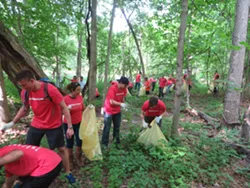 We like to spend our Saturday mornings sipping coffee and searching Pinterest for "cheap landscaping ideas" and "curvy girl fashion," but every once and a while there's a good reason to get up off the couch and get out of the house.
This Saturday the Friends of the Rouge are hosting the 30th annual Rouge Rescue event and it's the perfect way to donate some free time and help make a difference (plus, let's face it, your front yard is going to look like shit no matter what you do and nobody cares what your curvy ass looks like anyway).
The event draws nearly 1,000 people who help clean up the river, remove invasive plant species, do trail work, weed, plant native vegetation, and remove debris at 19 different work sites in several different cities across the region including Detroit, Dearborn, Plymouth Township, Novi, Northville, Southfield, Livonia, and Beverly Hills. You can
click here
for a full list of clean-up sites as well as what work is happening at each site and what time the efforts begin. Some sites are family-friendly, while others are not safe for children.
Friends of the Rouge have been hosting this event since 1986, engaging thousands of metro Detroiters and restoring the river at 20 to 50 different sites throughout the watershed.