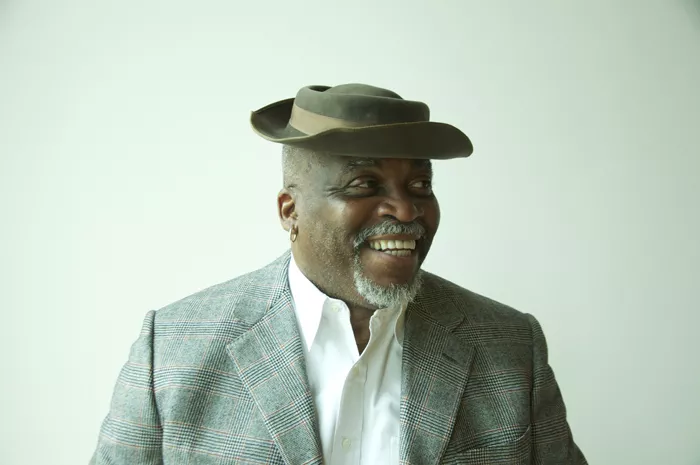 George N'Namdi has called Detroit home for his entire adult life. Originally from Columbus, Ohio, N'Namdi and his wife moved to Detroit in 1976 after attending the University of Michigan with aims to start the Nataki Talibah Schoolhouse. Shortly after establishing the school, N'Namdi got into the art game and opened the G.R. N'Namdi Gallery, which has been instrumental in cementing Midtown's reputation as a creative community and gaining a national reputation for highlighting African-American art. The point is, N'Namdi knows a thing or two about investment in neighborhoods and in watching how they develop. And Detroit's recent surge in development has N'Namdi concerned.
N'Namdi got press earlier this year for discussing his concept of "psychological gentrification" at the Michigan Citizen's "Two Detroits? Gentrification" forum. With media outlets like The New York Times getting flack for "whitewashing" their coverage of Detroit's redevelopment recently, we thought it would be a good time to ask N'Namdi to elaborate on his theory, as well as its implications in Detroit's rebirth.
Metro Times:What is "psychological gentrification," and when did you coin the term?
George N'Namdi:I just started thinking about all the things that are happening in the city and how a lot of people are talking about gentrification. It's not like your traditional gentrification, where you're physically uprooting people, because we have so much vacant property here and we're happy to have people occupy the property. What's more important, though, is what's happening with psychological gentrification.
It's in the media, but it's also in the programming and how things are planned. Part of Detroit is having this urban soul, and a lot of times it's like throwing out the baby with the wash, in a way. By losing that energy, you lose your sense of having input into their environment. Right now, Detroiters take a lot of responsibility in their environment. We don't want it to change where they begin to feel like it's not their city. That's what I mean by psychological gentrification. You go into places, you're not seeing yourself as often. The different types of business that may be coming in, they may not be catering to you. I think that's what you can kind of see. I think having that total input is very important.
People really love this city, and they want to be part of this city and any development. In speaking with the African-American community here — this is applicable to all the different communities — it's that you always have a sense of self and a sense of importance as part of Detroit. If too much is done to give you the illusion or the sense that it's not yours any longer, then you begin to have the feeling of being left out.
MT: Would you describe it as a lack of African-American visibility in these new businesses that are opening, or the media coverage of these new businesses that are opening?
N'Namdi: This is not a blame. I have been encouraging African-Americans to not only participate in the different activities in Detroit in the city, but also to be investors in the city. There is a new vision of the city — it has more of a creative kind of a base. I don't mean just art. So partake in the different offerings that are happening now so that your presence is always felt. If you don't have the property ownership and business development, you begin not to see yourself. People won't develop the businesses around what you are like.
MT: You must have noticed a lot of change in Detroit since you came in the '70s. Is this moment different?
N'Namdi: Yes. I think this is a very pivotal moment. I think this really is on the verge of major change. The change is already happening. It's changing as we speak.
I do believe that it's going to spill out to the other neighborhoods. In terms of dealing with part of the issue that we're talking about, we're putting together an investment team for restaurants and galleries, to create a gallery district and restaurant district on Grand River around Rosa Parks. All this development that's taking place downtown, I do feel that it will ultimately begin to go to our neighborhoods.
MT: As of now it's very much isolated to downtown, isn't it?
N'Namdi: Yes it is. It's downtown and Midtown. When I say downtown, I'm talking everything south of [West Grand Boulevard], give or take a mile. If you go along any of the other spokes going out — I'm talking about Woodward, Grand River, Michigan, Gratiot — everything is basically south of the Boulevard. I do think that the other neighborhoods are really going to be making a comeback also — Rosedale Park, the University District, Palmer Woods, East English Village, Indian Village. What happens is a lot of people complain about it, but that is where businesses can make money. That's where they're going to end. Right now the money that can be made is downtown; that's where the development takes place. But currently there won't be any real estate that the average investor can afford. So it would have to go along the corridors of the neighborhoods. There's already programs now that are trying to do that, trying to make the neighborhoods a viable place where people can shop, live, and also play. And hopefully some will even be working there.
MT: Ultimately, do you think there can be room for everybody?
N'Namdi: You want to have a diverse community that is not dominated by anyone, and particularly not dominated by the minority. I think the African-Americans have to take responsibility, but at the same time the powers that be who are doing a lot of the current investment — they do have to look purposeful in their programming. They have to make sure they include everybody. They have to make sure they don't lose this part of Detroit. That's why people come to Detroit — it has that Motown soul. You're not saying it like that, but that's why people are coming. It's part of the city. You don't want to marginalize it; you want to play up on it.
You travel because of a city's funk. Think about that. You go to New Orleans, why? Because of the funk. You don't want Detroit to be losing its funk. Cheap real estate is everywhere in this country — but it's missing that funk, it's missing that soul.