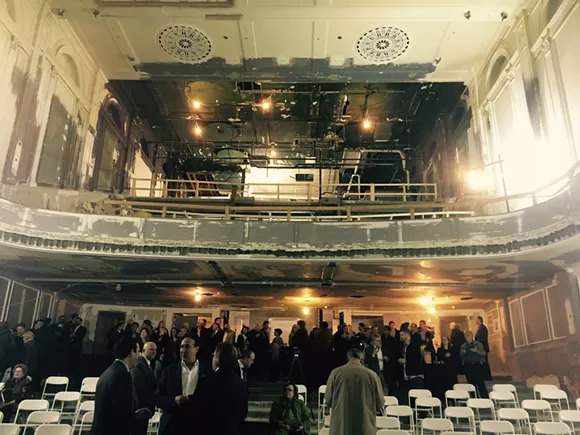 Construction on a key piece of downtown Pontiac's revival is underway.
Enter: The Flagstar Strand Theatre for Performing Arts — a renovation of the long-closed Saginaw Street venue. Originally built in 1921 for vaudeville acts, the theatre was transformed into a movie house until closing in the mid-90's. Finally, after years of planning and fundraising, the theatre announced Wednesday that construction is underway and the venue is scheduled to open in the fall.
Fifteen ribbon-cutting ceremonies have been held for new Pontiac businesses in the last five months, according to Mayor Deirdre Waterman. It's taking time, but the leaders of Pontiac truly seem invested in making the city vibrant and welcoming again.
The renovation of the Strand is the brainchild of owner and developer Kyle Westberg and President and CEO of the Flagstar Strand Theatre, Bill Lee. Both have been invested in the project for years and have devoted a ton of time and energy. You could see the relief on Westberg's face when he got to address the crowd Wednesday and discuss the rebirth and renaissance that's happening in Pontiac.
Safety is another issue that will likely be brought up from residents living outside of Pontiac that may attend a show or play this coming fall. Since the Oakland County Sheriff's Department took over the city's police protection in 2011, the crime rate has dropped significantly. Sheriff Michael Bouchard noted at the event that violent crime is down by 38 percent across the board in the city. The days of feeling nervous while enjoying a night out in downtown Pontiac are long gone.
As for the renovations, Westberg's construction company will began construction almost immediately. Right now, the theatre resembles an empty canvas for architects, painters, and designers to restore and renovate this lost treasure in Michigan history. Lee says that they are installing new comfortable seats, a new bar area (that will serve Slows Bar-B-Q and refreshments from next door), and a general facelift of the entire theatre.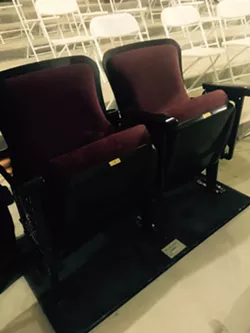 Bill Lee's eyes lit up when asked about what kind of events and shows that the Strand will produce.
"We want to bring in everything. We have a small, intimate theatre that will draw the attention of a lot of national eclectic bands. We want to bring those kind of acts here, as well as comedians and local theatre."
Lee has a good point. There are countless venues in metro Detroit, but a small theatre that has comfortable and accessible seating? Sure, fans love to stand during a riveting rock show, but why not take a break and sit down for the emotional ballad? That's the kind of service that many venues and clubs can't offer.
Take a look around this downtown area there are coffee shops, bars, restaurants, and funky shops. The Flagstar Strand Theatre seems like another puzzle piece for a city that's already building momentum.