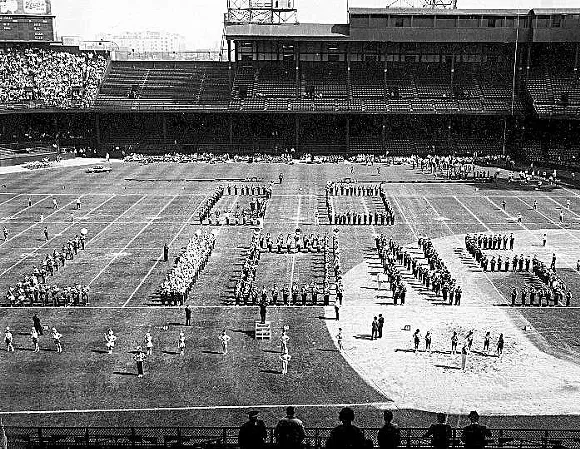 Tomorrow marks the 40th anniversary of the final NFL game ever played at the corner of Michigan and Trumbull.
On Nov. 28, 1974, before a Corktown crowd of more than 51,000,
the Detroit Lions fell to the Denver Broncos, 31-27
, bringing to an end a storied era in Detroit sports history that began in 1938.
Clinging to their slim playoff hopes that Thanksgiving Day, Rick Forzano's 6-5 Lions were dealt a crippling blow when former Heisman Trophy–winning running back Steve Owens suffered a career-ending knee injury in the first quarter.
Lions quarterback Greg Landry later tossed a 23-yard scoring pass to running back Altie Taylor, and cornerback Levi Johnson returned an interception 55 yards for a touchdown.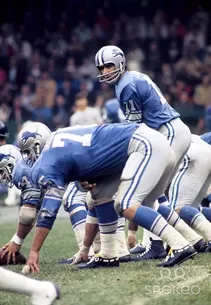 Landry, subbing for the injured Bill Munson, did all he could to keep the Lions in the game. But the Broncos, led by Otis Armstrong's 144 rushing yards, were simply too much for Detroit.
Cornerback Lem Barney, then in his eighth season as a Lion, remembers Armstrong's punishing running style that final game.
"It was like trying to tackle a buffalo," he says.
Barney,
who sang background
on Marvin Gaye's seminal 1971 single "What's Going On," fondly recalls Thanksgiving in Detroit.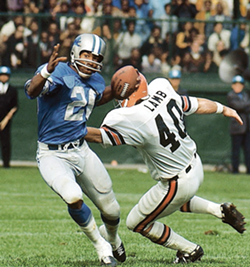 "Having the opportunity to play the first seven years of my career at Tiger Stadium was just a joy," Barney says. "It'll always be in my heart. … It was a great opportunity to play in a very historical stadium. Some of the greatest baseball players of all time played there, as well as some of the all-time great football players."
Although they won two NFL titles in Corktown (1953 and 1957), the Lions left Tiger Stadium in 1974 with their tails between their legs. The following year would mark their inaugural season at the brand-new Pontiac Metropolitan Stadium (later known as the "Silverdome").
With the '74 season coming to a close and Silverdome construction behind schedule, it looked like the Lions might have to start the '75 season back in Corktown.
Lindell A.C.
proprietor Jimmy Butsicaris, after taking a helicopter ride over the construction site on Featherstone Road, speculated to the
Detroit Free Press
that it wouldn't be ready in time for football season.
But despite some Opening Day stadium snafus, the Lions made their Pontiac debut on time in 1975, just weeks after the disappearance of Jimmy Hoffa.
While
another Silverdome tenant
found gridiron glory, the Lions found remarkably little success during their tenure at the Dome (1975-2002). There was
the hot start to the 1980 season,
and there was
that one playoff victory in 1992
.
They haven't won another one since.
Although the Silverdome was touted as a state-of-the-art stadium when it opened, the Lions played just 27 seasons there before moving downtown in 2002.
At that rate, Ford Field's days might soon be numbered.
Today the Silverdome sits
abandoned
and
dilapidated
, its future still in question.
Tiger Stadium, which the Tigers left for Comerica Park in 1999, was demolished in 2009. Today the field is maintained by the volunteers of
the Navin Field Grounds Crew
.
The Lions, with four championships in franchise history,
last won an NFL title in 1957
, when quarterback Tobin Rote, subbing for an injured Bobby Layne, led Detroit to victory over Jim Brown and the Cleveland Browns, 59-14, at Tiger Stadium (then known as Briggs Stadium).
This afternoon, Jim Caldwell's second-place Lions (7-4) take on the third-place Chicago Bears (5-6) in Detroit's 75th annual Thanksgiving Day game, at Ford Field.
Unlike that final game at Tiger Stadium (which was blacked out locally, save for the final two minutes), today's game will be televised on CBS.
Kickoff is at 12:30 p.m.
---
Dave Mesrey is a local freelance writer and producer, and a founding member of the Navin Field Grounds Crew.