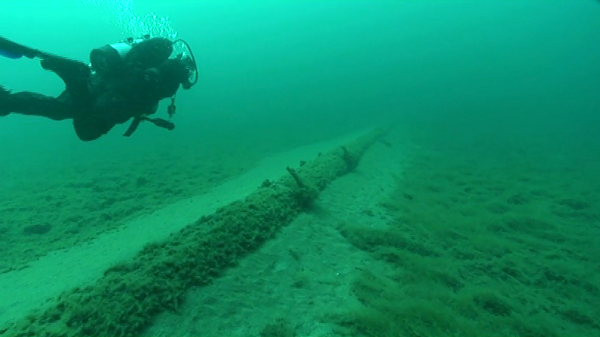 Following mounting concerns regarding the safety of Line 5, Canadian oil giant Enbridge Energy reached an agreement with Michigan on Wednesday to move its 65-year-old oil and gas pipeline to an underground tunnel.
Under the plan, Enbridge would pay to construct a four-mile shared "utility corridor" that would be drilled 100 feet under the lakebed, which is deemed much more safe.
The pipeline has been located along the bottom of the Straits of Mackinac since 1953. Opposition to Line 5
has grown in recent years
after another one of Enbridge's pipelines ruptured in the Kalamazoo River in 2010. In 2013, the National Wildlife Federation sent divers to inspect Line 5, finding stretches of the pipeline unsupported by anchors and heavily encrusted with invasive zebra and quagga mussels. The company drew further ire when it was revealed it had been
less than forthcoming
about reporting the degradation of the pipeline, and this year a vessel
damaged the pipeline
with its anchor.
Of course, environmentalists shouldn't rest just yet. If approved, construction could take up to a decade to complete, and there are no plans to stop the flow of oil and gas through the existing pipeline in the meantime. So Line 5 could be nearly 80 years old before it gets replaced.
Experts have warned that a Line 5 leak could pose an equal threat to Lakes Michigan and Huron due to the oscillating currents in the straits. As part of the agreement, Enbridge is required to keep $1.878 billion on hand to fund a worst-case scenario cleanup.
Gongwer News Service will have more on this story in today's Michigan Report.
Stay on top of Detroit news and views. Sign up for our weekly issue newsletter delivered each Wednesday.