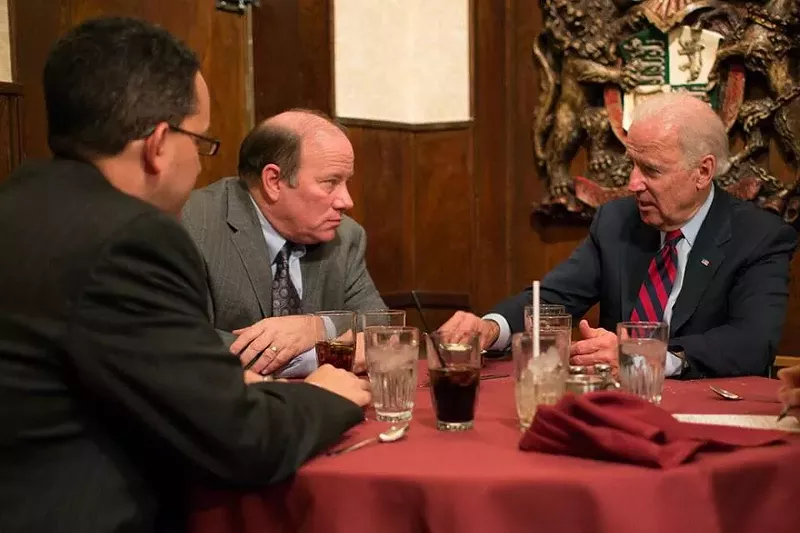 Detroit Mayor Mike Duggan is seriously considering joining Joe Biden's presidential campaign team, but his office said he won't be leaving office to do it.
"The mayor will not be leaving his position to assist with the campaign," mayoral spokesman John Roach tells
Metro Times
. "He's not going anywhere."
If Duggan divides his time between running the city and the campaign, Police Chief James Craig, who also serves as deputy mayor, would step in when Duggan is out of town.
Roach would neither confirm nor deny that Duggan is planning to play a role in Biden's campaign, but two City Hall sources tell
Metro Times
that the mayor has expressed a strong desire to join the campaign while simultaneously running the city.
It wasn't immediately clear what role Duggan wants to play in the campaign. He's a formidable fundraiser and strong campaigner in a state that narrowly voted for Trump in the 2016 presidential campaign. Duggan also forged a strong relationship with Biden, who recorded a phone message to voters on the eve of the mayoral primary election after Duggan called the former vice president on his cell phone for help.
Duggan told
Politico
in August 2017 that he would run Biden's campaign if Biden decided to run.
"Well, you know, I'd do it if Joe Biden wanted," Duggan
told Politico's Off Message podcast
.
Biden announced he's running for president last week, and many polls show him as the Democratic frontrunner.
It's not unheard of for a big city mayor to simultaneously run a presidential campaign. In 2012, Chicago Mayor Rahm Emanuel served as honorary chairman of President Barack Obama's reelection campaign before stepping down in September of that year to raise money for the Democrats' Super PAC, Priorities USA. Some politicians and Chicago residents questioned whether Emanuel should have divided his time between the city and campaign.
Roach noted that Duggan has helped other campaigns on his personal time.
"The mayor was significantly involved in Gov. Whitmer's reelection campaign and Sen. Stabenow's reelection campaign – both on his own personal time. Neither of those interfered with him serving as mayor," Roach said. "The same would be the case with any role he might play in a presidential campaign."
Biden became a major advocate for Detroit as the vice president, visiting the city numerous times under Duggan's leadership. In 2014, Duggan introduced Biden at the Michigan North American International Auto Show.
"He's loved it here," Duggan told
Politico
.
Duggan's connection to big-pocketed donors could be a benefit to Biden. The mayor has built one of the most formidable political machines in the state, raising millions of dollars inside and outside of the city.
A large share of that money comes from the other side of the aisle — Republicans, who have taken a liking to Duggan for being corporate-friendly as banks and developers look to cash in on downtown Detroit's renaissance.
Biden and Duggan are both moderate Democrats and not part of the progressive wing that has gained traction after Hillary Clinton's failed campaign allowed a brash reality TV star and billionaire to become president.
Duggan was a big Clinton supporter, and some of his top campaign aides helped run the race in Michigan.

Stay on top of Detroit news and views. Sign up for our weekly issue newsletter delivered each Wednesday.