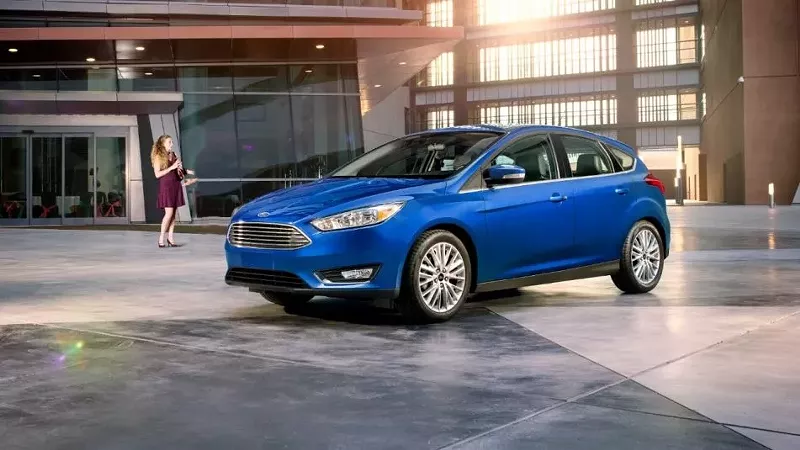 To the Ford Focus, "You're fired!" On Friday, Ford Motor Co. announced it was canceling plans to import its China-made Focus in response to President Donald Trump's recently announced tariffs.
It's been a bumpy ride for the car. The company projects it sells less than 50,000 Focuses annually — a "marginal" volume that wouldn't warrant U.S. production. In 2016, the company said it would move production from Michigan to an existing factory in Mexico to save money. Then last year, Ford announced it would instead build the brand in China and import it, which the company said would be even cheaper. But now with Trump's tariff, Ford says it will scrap that plan and just not sell any new Focuses in the U.S. next year.
The announcement was made on a conference call on Friday morning by Kumar Galhotra, head of Ford North America. "Given the negative financial impact of the new tariffs, we've decided to not import this vehicle from China," he said. "Our resources could be better deployed at this stage." However, the company said it planned on adding more trucks, SUVs, and electric and hybrid models in the coming years.
But some analysts believe that other automakers would pull vehicles in response to the tariffs.
"The president's war on the automotive industry is causing a knee-jerk reaction that will only bring higher costs and less choice for consumers," the AutoPacific Inc.'s Dave Sullivan told
The Free Press
.
"This is the first of potentially many vehicles that will disappear from the U.S. market," the Center for Automotive Research's Kristin Dziczek told the paper
.
"The threat or the imposition of a 20 to 25 percent tariff — a high tariff — will limit consumer choices and
rise
prices in the U.S."

Stay on top of Detroit news and views. Sign up for our weekly issue newsletter delivered each Wednesday.