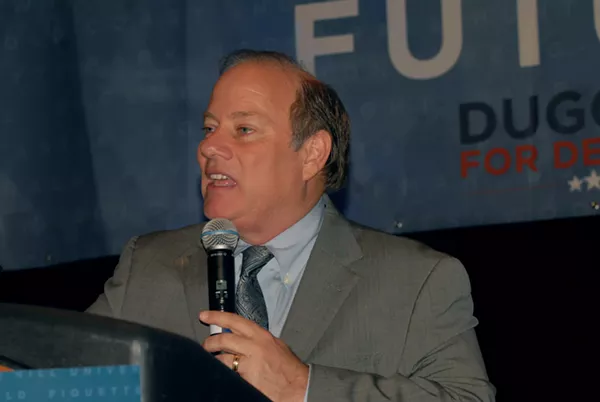 A businessman with an
axe
to grind has gone to extreme lengths to attempt to discredit and humiliate Mayor Mike Duggan — going as far as hiring private investigators to follow and secretly film the mayor, and even publicly screening a video that he alleges shows the mayor having an extramarital affair.
Robert Carmack, who owns of B&C Land Development Corp. and has been involved in numerous legal entanglements with the city, reportedly paid $20,000 for a private investigation that included secretly filming the mayor meeting a woman at a suburban house. On Wednesday, he rented a truck with oversized TV screens on the back and played the edited video outside of the Coleman A. Young Municipal Center.
"This is a video showing Mike Duggan going out … to meet a lady at night time when I put my private eyes following him on my federal lawsuit, to try to find out what kind of character he is," Carmack
told the Free Press
. "I'm broadcasting it because this is where they can see what kind of character that this man has. They say he's a clean-cut guy, that he's honest and so forth. Here you see that he's going to meet a lady at 10 o'clock at night, staying there one hour then leaving."
Duggan and his wife have denied the allegations, providing a statement to the Freep:
"A litigant, angry to be losing a case to the Detroit Law Department, apparently decided to retaliate by hiring private investigators to follow the Mayor without his knowledge for several months. And in the end, their surveillance failed to uncover a single misdeed in the management of the city."

"If that terrible invasion of privacy weren't enough, it got worse. This same angry litigant then took individual videos of cars driving, spliced them together, and added assumptions and insinuations, all so he could create a negative judgment on the state of our marriage."

"We decided to write this statement together because we are proud of the marriage we've built over 32 years, proud that our bond today remains strong, and proud of our goal to spend the rest of our lives together."

"When you elect a public official you have every right to pass judgment on their performance in office. But you don't get the right to pry into their personal lives, or demand information on their marriage. At least that's how we feel and why we don't answer questions about ours."
Carmack has been in the news a lot lately. In June, the city sued the businessman, accusing him of stealing 10 acres of industrial property in southwest Detroit selling it. Earlier this year,
it was revealed that Carmack was an FBI informant
in the corruption case against Detroit councilman Gabe Leland, who accepted $15,000 from Carmack. And this month, it was revealed that Carmack
donated more than $150,000
to the reward fund for Tamara Greene, a stripper with alleged ties to former Mayor Kwame Kilpatrick who was murdered in 2003.
Kipatrick
, of course, was famously caught having an extramarital affair with his chief of staff Christine Beatty in 2008.
Stay on top of Detroit news and views. Sign up for our weekly issue newsletter delivered each Wednesday.