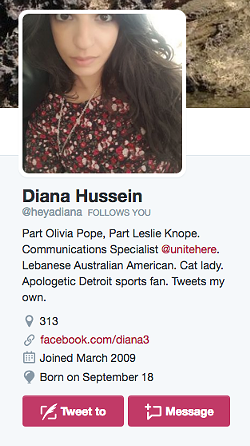 Diana Hussein, a Dearborn resident, communications specialist at UNITE HERE, and occasional writer at
Metro Times
, was the apt fingers behind the Twitter handle @DietDrPepper for nearly seven years. It was under that name that she shared her thoughts on politics, Detroit sports, and her cats with the Twitterverse.
"I was taking a communication research class and 'wanted to check out this micro blog thing' and I made the handle @DietDrPepper because I had a can on my desk," she says of the handle's creation.
But these days she's quipping about her cat Miggy (who is, yes, named after the baseball player) and feeling the Bern under a different handle after handing over @DietDrPepper to the company that manufactures the soda.
And she didn't get a single dollar for the brand name moniker.
"They offered me Dr. Pepper swag," Hussein says of Dr. Pepper Snapple Group's (DPSG) initial proposal, which came mid-January. She'll never know how many tote bags and hooded sweatshirts the handle was really worth to the company, because she had something different in mind.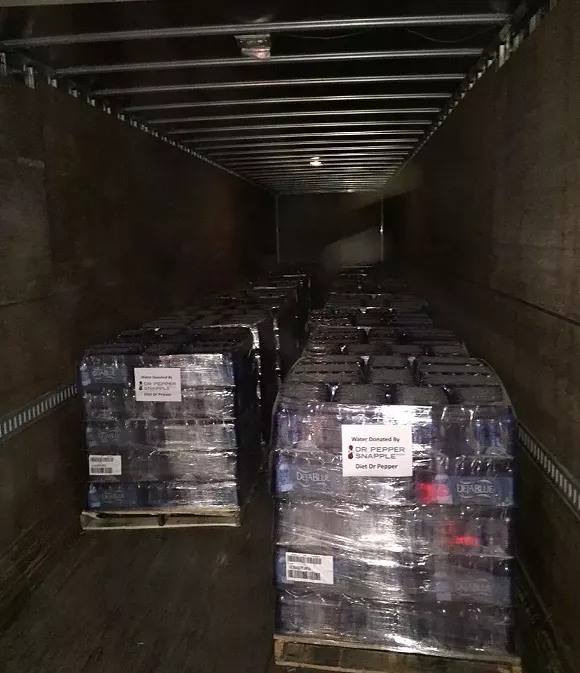 "When I realized they also owned Dejá Blue bottled water, I figured I'd ask them to donate to Flint in lieu of swag," she says.
The company agreed and pledged to send $5,000 in bottled water to Flint. That works out to 24 pallets, or roughly 41,000 bottles, according to Hussein.
The water was delivered to the Food Bank of Eastern Michigan at the beginning of March.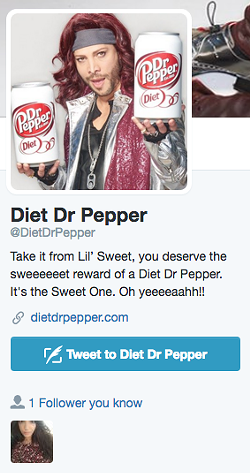 So far it doesn't appear the Diet Dr Pepper is doing anything particularly awesome with the Twitter handle, but we'll still applaud the donation to help Flint residents combat the ongoing water crisis.
You can follow Hussein and her rather amusing thoughts on Donald Trump and Wonder Woman at @heyadiana.