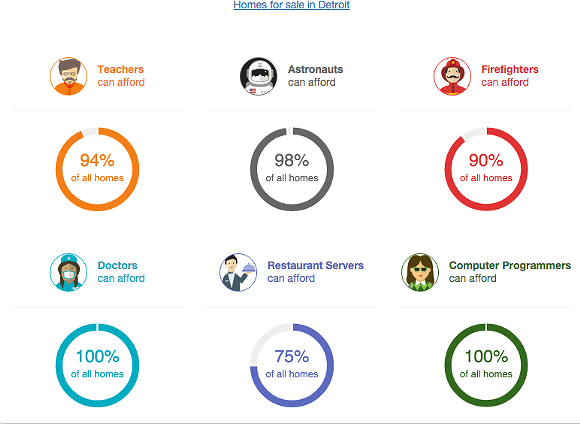 Estately, a site we're not uber familiar with but appears to be something of a flashier Zillow, has released a fun
new study
that looks into homeownership opportunities for various professionals in a smattering of cities.
Zeroing in on Los Angeles, Seattle, San Francisco, Chicago, St. Louis, Philadelphia, Atlanta and, yes, Detroit — the site lets us know
where
people like firefighters, astronauts, and restaurant servers can achieve the American Dream and buy their very own house.
What we learn?
Basically
any professional can get a house in Detroit, according to Estateley's math — which is Glassdoor average annual salaries layered over homesale prices during the last six months.
Nifty, the site also has an interactive graphic where you can compare homeownership opportunities across state lines. For example, while only 3 percent of teachers can buy a house in LA, and 0 percent can buy a house in SF (pause. think about that.), a whopping 94 percent could buy a house in Detroit, the study reveals.
I am somewhat skeptical of the data* but think it's a worthwhile site to visit if you're in a procrastination mode (hey, follow up to this
Flint-KWA story
**) or want to feel bad about why you don't own a house in Detroit when apparently it's so darn easy.
So, yes, play around with the study
here
— enjoy.
*Glassdoor says the average teacher in Detroit makes $55K, which seems a bit higher than the reality. Maybe my brand new teacher status put me at risk, but I was only making $34K during the three years I taught at a charter school in Detroit, and informal surveys of teacher-friends hint that this is in fact more the trend.

** Follow up complete! Read here!