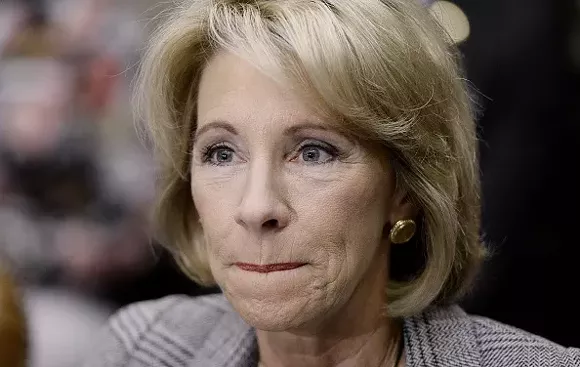 In a nebulous statement released by Education Secretary Betsy DeVos we're led to believe that the philanthropic billionaire turned
public school dismantler
eduction reformer might actually have a decent bone in her body.
And maybe those activists groups actually made a difference.
In response to President Trump's decision to revoke provisions made by the Obama administration to protect transgender students and their use of bathrooms that correspond with their gender identity, DeVos was allegedly not on board.
The
New York Times
reported that DeVos, "initially resisted signing off and told Mr. Trump that she was uncomfortable because of the potential harm that rescinding the protections could cause transgender students, according to three Republicans with direct knowledge of the internal discussions."
But when faced with the decision of standing her ground or being forced to resign — which were her only two options once the president told her to drop her opposition — DeVos relented, according to the
NYT
.
DeVos then released a statement in which she states she feels it's a "moral obligation" for schools to defend students from discrimination, bullying, and harassment.