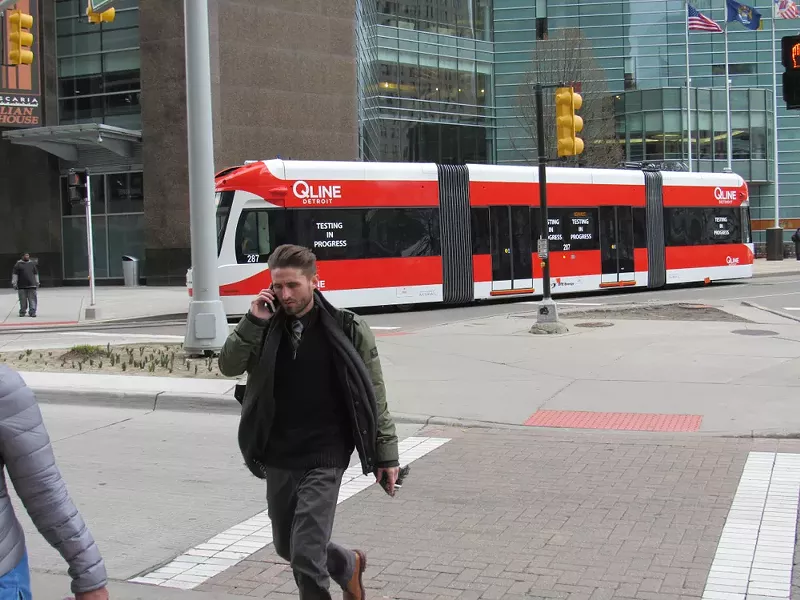 Dealing with parking in downtown Detroit can be a pain.
This month, Detroit's QLine streetcar is launching a new $5 weekend park-and-ride pilot program so people can park their cars north of the Midtown area and use the streetcar to head downtown.
During weekends throughout February, QLine riders can park at the Wayne State Parking Lot 12 at 6050 Woodward Ave., located one block away from the QLine's Amsterdam station.
The program runs Fridays-Sundays on the weekends of Feb. 3-5, Feb. 10-12, Feb. 17-19, and Feb. 24-26. The lot opens at 4 p.m. on Friday and remains open through Sunday.
QLine operator M-1 Rail says it hopes to expand the program to include more parking lots.
"We want to provide an easy and affordable option for people to get to and from events, nightlife, and dining along the Woodward corridor," said M-1 Rail president Lisa Nuszkowski in a statement. "This is the beginning of a program we hope to grow with additional partners and providers as we build awareness that transit is a convenient way to access all the corridor has to offer."
The program is through a partnership with M-1 Rail and Wayne State University's Parking and Transportation Department.
"We are pleased to offer a resource to help launch the park-and-ride pilot program," said Wayne State University Parking and Transportation Services director Jon Frederick. "Helping manage the traffic flow on event nights benefits the campus community and Greater Downtown. We are pleased to do our part."
The QLine remains free to ride. As ridership has fallen far short of expectations, especially amid the pandemic, fares were scrapped in hopes of attracting more riders.
In December, Gov. Gretchen Whitmer signed legislation to subsidize the QLine with $85 million through 2039.
Coming soon: Metro Times Daily newsletter. We'll send you a handful of interesting Detroit stories every morning. Subscribe now to not miss a thing.

Follow us: Google News | NewsBreak | Reddit | Instagram | Facebook | Twitter