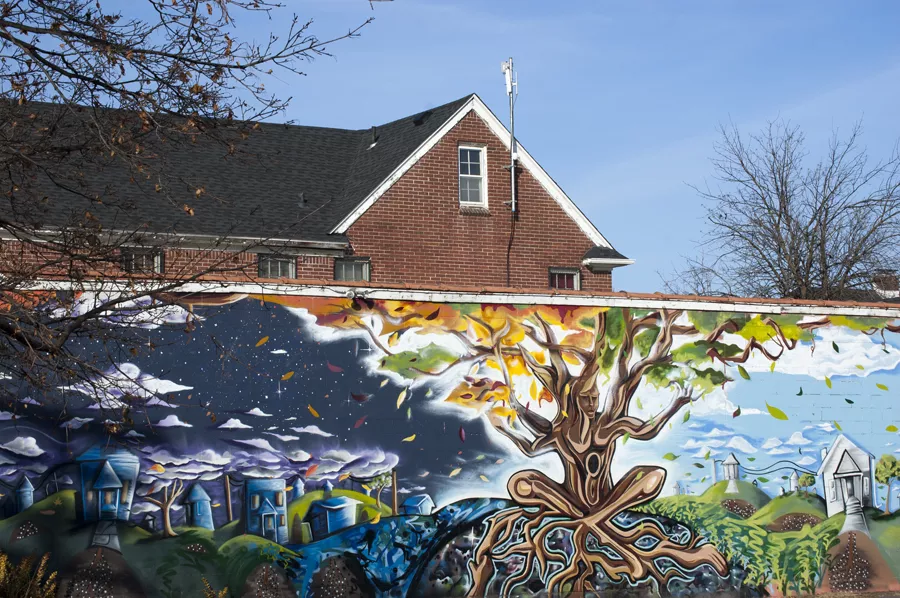 On a chilly November evening the neighborhoods of northwest Detroit are quiet — traffic on Grand River Avenue is unusually calm, and the area's residential streets are mostly dark — but the Detroit Public Library's Redford Branch is buzzing. An hour before closing time the building's wraparound parking lot is nearly full; inside, dozens of patrons, men and women of all ages, pore over research or homework and chat softly. Mostly, though, they use the computers: a couple dozen machines positioned prominently in the middle of the facility's large main room. Two rows in the back are reserved for a class, where an instructor, in the final session of a multi-week course, uses a large projector to demonstrate copying and pasting in Microsoft Excel. Behind one screen in another row two teenagers huddle close together, engrossed; behind another a middle-aged woman has laid out stacks of paperwork.
"This is kinda shaky today," LC Bulger, a soft-spoken 53-year-old, says as he tries multiple times to log off. Bulger has sporadic web access through his job working in special education for Detroit Public Schools, but he has no access at home. So tonight, when he needed to process some emails and do other personal work, he came to Redford.
"This is a light night," he says — sometimes when he shows up all of the computers are taken, and he'll go home rather than wait, reasoning that schoolkids and other patrons have needs more pressing than his. "They're really in here because they don't have [online] options," he says, "and the internet nowadays — I really do feel like it's almost a necessity."
By now the disparities of Detroit's comeback are well documented: Despite a feverish economic surge centered downtown, most neighborhoods are still struggling; the city ranks as both America's most impoverished large city and its most violent. But there's another, typically overlooked element to this tale of two cities: internet connectivity.
In a time where equal access to the internet nationally appears under threat — last month President Donald Trump's Federal Communications Commission declared its intention to gut net neutrality — approximately 40 percent of Detroit households remain completely offline, even as slick new providers like the Dan Gilbert-founded Rocket Fiber emerge to keep pace with the city's frenetic development. And for the hundreds of thousands of residents left unconnected, the consequences are stark.
"This is now no longer a problem of lost opportunity — this is a problem of a genuine barrier," says Bill Callahan, director of the nonprofit Connect Your Community. "In many ways you could say the cost of internet is a new poll tax. ... This has now become a civil rights issue."