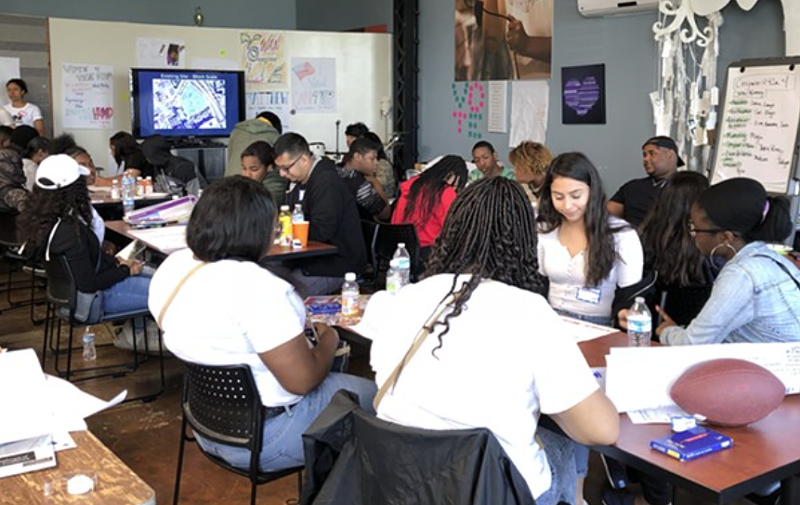 Last Saturday on Detroit's near east side, groups of teens sat huddled around tables talking about the future of their city. They were discussing something that normally doesn't include the perspective of students — jails. Or, more specifically, what Detroit would look like if a restorative justice center was built instead of a new Wayne County Jail.
An alternative to the traditional criminal justice model that involves sending perpetrators to jail, restorative justice involves the perpetrator, victim, and wider community working together in the rehabilitation process. Carl Merriweather, a 16-year-old senior at University Prep Science and Math High School, envisioned a center called Detroit Living Care, where the perpetrator and victim up could be set up for a more positive future.
"It's like, someone has a disease and it's contagious. Instead of just killing that person it'll be finding an antidote to heal that person so they can have their life and still enjoy it," explains Merriweather.
When asked what restorative justice means, Destiny Brickerson, a junior at King High School, said that the philosophy brings an opportunity to solve problems therapeutically instead of punitively.
"A nicer place, or a place that can really help them, instead of just sending them to prison which just breaks them down and destroys their mentality," Brickerson explains.
The event was put on by the Detroit Justice Center, a restorative and reformative justice non-profit, and Designing Justice + Designing Spaces, a social justice architectural group from Oakland, California. Students belonging to a number of community groups —
Teen Hype
,
482Forward
,
Black Youth Project
(BYP) 100, and
Good Jobs Now
— participated, each sharing how they would like to use restorative justice to fill the space of the "fail jail" site.
"Early data suggests that restorative justice builds empathy, that it reduces violent reoffending by 75 percent," Deanna Van Buren, design director of Designing Justice + Designing Spaces, has said in a
TEDx talk
. Notably, the reformed criminal justice philosophy is not some abstract concept. Restorative justice centers already exist in Brooklyn,
Syracuse
, and
Oakland
, California.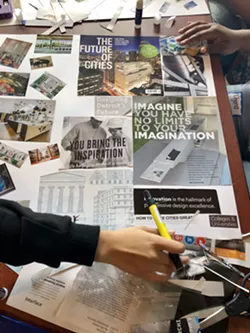 In addition to the discussion surrounding restorative justice, students were also asked to rethink public space and community engagement. They were given the chance to play city
official,
and asked how they would spend the
$530 million
to be devoted to the new jail complex. Their ideas were
vast,
and included health centers, retail shops, a restorative justice space, cultural and religious centers, dog parks, people parks, museums, cafes, and, most popularly, a mental health spa.
"Most people who use public spaces are under 18," explained Prescott Reavis, a spatial activist, city planner, designer, and educator who helped lead the event. "So their voices actually matter."
Leaders of the summit hoped to teach teens, particularly teens of color, the design and architectural process to institute restorative justice models not just for the event this past weekend, but also for future projects.
According to the National Organization of Minority Architects,
less than three percent
of architects in the United States are African American.
The Detroit Justice Center says it plans to present the ideas from the summit to Rock Ventures and the Wayne County Commission — the lead financiers and approvers of the new jail — within the next year.
"This [jail] will not just impact adults, but also kids in the city, as well as their kids," says Amanda Alexander, founder and executive director of the Detroit Justice Center.
Sam Corey is a Metro Times fall editorial intern.


Stay on top of Detroit news and views. Sign up for our weekly issue newsletter delivered each Wednesday.