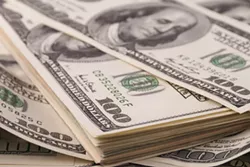 For the past two-years, Larry A. King, a little-known Washington DC-based consultant, has been on the city of Detroit's payroll. While his job duties are somewhat ambiguous — "providing ongoing guidance, advice, technical feedback and support in a variety of business lines within the city's organizational structure" — his salary is not. According to the
Detroit Free Press,
between April 2014 and July 2016, the human resources consultant has raked in $692,399 in salary and expenses from the city of Detroit.
How did King, who many city council members said they were unaware of even existing, end up with this lucrative gig? In short: Emergency Management.
According to the
Freep
his original contract was approved by former Emergency Manager Kevyn Orr ($115,000 a year in February 2014) and re-signed by Orr in September the following year. Since Orr's departure, King's contracts have been approved by the city's Chief Financial Officer John Hill — another Orr appointee, and King's boss and former colleague in DC. King approved a contract in June 2015 and again in December 2015.
"As Detroit continues to move forward after bankruptcy, this deal is a reminder that the city still functions, in part, within a framework created by the emergency manager, made possible under Public Act 436. It's a framework that does not, necessarily, lend itself to complete transparency and checks and balances," writes the
Detroit Free Press,
whose investigation into King's contracts reveals a number of ambiguities.
For one, King's work is really, really, really unclear. Take a look at Hill's explanation of what his employee does: "Mr. King, in conjunction with the Chief Learning Officer, also developed a comprehensive training strategy including transition services for impacted employees and a performance management process and system for the Office of the Chief Financial Officer."
(Please take to the comment section and break that down for us, because we have zero clue
what the heck
that means King has done).
Then, there is the issue of accountability. None of King's contracts have been approved by CityCcouncil. He was brought on by an Emergency Manager with carte blanche power. Subsequent contracts have been approved by Hill, who also has carte blanche hiring power. While Hill conceded in December 2015, and told City Council that moving forward he would go to them for hiring approval, he also signed off on King's latest contract on the same day that he shared this news with City Council.
Then, there is the fact that nobody seems to know what is going on. City Council seems unaware of King — and more specifically his salary. When Mayor Duggan's office was asked for comment they originally told
Freep
that "King's total wages were closer to $330,000 than $626,675, before admitting the latter figure is correct."
And lastly, for some reason
nobody —
Hill and Duggan's office — made King available for comment.
The whole story is an interesting read, check it out
here
.