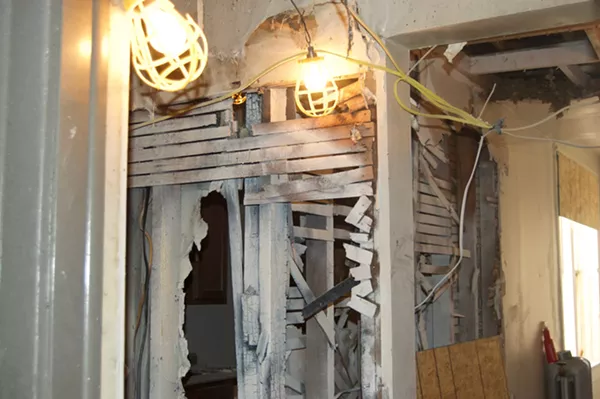 Detroit is notorious for its crappy landlords — the ones who
let mushrooms grow in their buildings
, allow tenants to
live next to units ravaged by fire
, or lease to people
without paying their property taxes
— leaving residents out on their ass once the property is seized.
This winter, city officials said an estimated 20,000 rental properties were not in compliance with Detroit building regulations. But officials had a plan: In February, they would begin a zip code by zip code crackdown intended to have living conditions improved citywide in about two years.
Well, the results are in for the first zip, and things aren't looking good. After giving residential landlords in the 48215 six months to get all of their properties up to code or face more stringent penalties — just 11 percent of registered rentals in that area have taken the requisite steps to receive clearance to operate. That's 52 rental properties of 468.
"We were hoping to get a better percentage than this," Detroit Buildings, Safety Engineering & Environmental Department director David Bell tells the
Detroit News.
"We've gotten quite a few landlords who've taken a wait-and-see [approach]. They are still in the mindset that they can get away with it."
The city has begun issuing non-compliant landlords $750 tickets. Tenants at non-compliant properties can now also begin putting their rent in
escrow
and avoid facing eviction, the city says.
In order to be compliant, Detroit landlords must register their buildings as rentals and meet safety requirements including a lead paint clearance. Once the building passes an inspection, it gets a certificate of compliance. The city says it's also requiring that building owners be up to date on their taxes and have all past blight tickets paid.
Some landlords have said the new enforcement is too harsh, and a landlord lawyer who spoke to the
News
has said he expects the crackdown to lead to a wave of properties being sold.
Stay on top of Detroit news and views. Sign up for our weekly issue newsletter delivered each Wednesday.