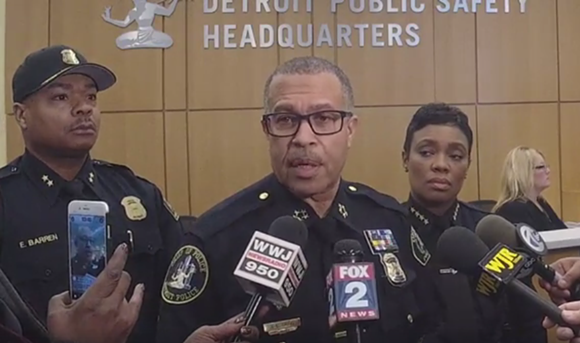 No, the man police say shot and wounded
two Detroit police officers
on the city's West Side Wednesday night did not confess to killing Wayne State Police Sgt. Collin Rose.
Detroit Police Chief James Craig during a Thursday morning news conference admonished local media, namely WXYZ, for using unofficial department sources to obtain the false information. He then went on to give the official account of what happened Wednesday.
Officers were in the area near MLK and the Jeffries investigating narcotics activity when they encountered a man described as "fidgety." They were not there as a part of stepped-up patrols deployed in the wake of Rose's killing, which happened in November about a mile north of Wednesday's shooting. Craig says the 3rd precinct— which includes Midtown and Corktown— has seen an uptick in nonfatal drug-related shootings this year.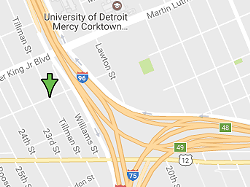 As the officers stood at the intersection of Ash and Tillman streets looking over the license of the man they say had been behaving strangely, he opened fire.
"The suspect was very violent," said Craig of 60-year-old Raymond Durham, who media reports say is
mentally ill
and homeless. "He was clearly trying aggressively to kill our officers."
One of the officers was shot in the neck, while the other was hit in the ankle and upper chest area while wearing a safety vest. Both are expected to be OK and reportedly were able to drive themselves to the hospital. The suspect was also hit during the exchange of gunfire and is expected to survive.
Craig says Durham continued to shoot even as the officers took cover, then reloaded his gun and ran off to hide in a bed of weeds as police officers from multiple agencies swarmed the area and helicopters flew overhead. Craig says given the man's aggressive behavior, he likely intended to attack the set of officers that found him. Durham was, however, arrested without incident.
Durham has a criminal history, according to Craig. Twenty years ago he was convicted of two burglaries and served three years of probation for the crimes.
As for whether he had anything to do with killing Sgt. Rose — that is being investigated. Craig noted there are similarities between Durham's mannerisms and the person seen running in recently released
bus surveillance video
taken after Rose was killed. He also said that, preliminarily, there even seem to be similarities in the "manner of attack."
For now, however, Durham is not a suspect in Rose's killing. But, "We are not ruling him out," said Craig.
The DPD has sent the .38 caliber revolver they found Durham hiding on the ground with in for testing to see if it can link him to the Rose incident.
You can watch the latest update on Wednesday's shooting of two officers below.