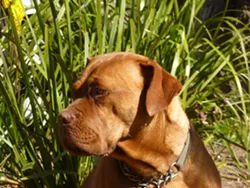 Detroit Police Department must pay $100,000 to the owner of Babycakes, a Dogue de Bordeaux an officer killed — without any apparent reason — in January 2015.
A crew of officers surrounded a house on the northwest side of Detroit a little over a year ago to question Darryl Lindsay. While Lindsay was never charged with a crime, the visit came with its share of trauma. A
dash cam video
shows Officer Darrell Dawson approaching the house and shooting Linsday's dog who was chained to a 10-foot leash next to the house.
A lawsuit filed in U.S. District Court describes the interaction: "Dash camera video shows Defendant Dawson walk toward Babycakes in her driveway to a position just beyond the reach of Babycakes' steel cable leash, pause, aim and shoot her twice with his department-issued ... 40-caliber handgun, striking Babycakes in the chest area," according to the suit.
A settlement was reached in November and Lindsay is expected to be paid in the coming weeks.
According to the
Detroit Free Press
it is unclear if Officer Dawson was ever disciplined on the matter.