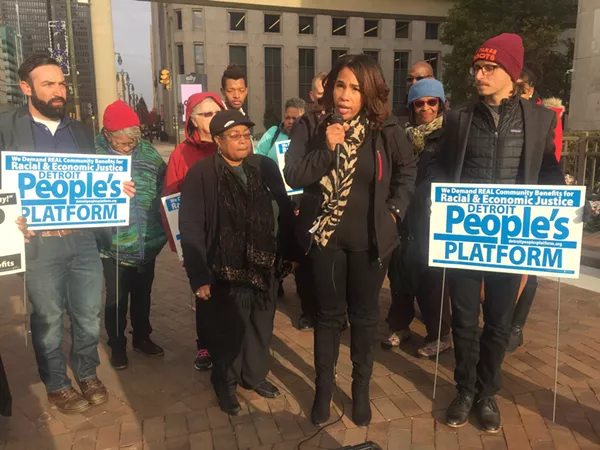 One year after Detroit activists were
narrowly defeated
in their fight to hold developers receiving public money to certain standards, they say they're regrouping with a push to create a "real and meaningful" community benefits ordinance for the city.
"The resurgence in the city only applies to maybe 20 percent of our residents," said Detroit People's Platform member Nicole Smith in a Thursday news conference in front of the Spirit of Detroit. "As more developments come into the city, Detroiters are not a part of getting jobs, they're not profiting from being developers, they're not profiting from economic justice. There are too many [inequities] that are running rampant."
Community benefits agreements are a tool to hold for-profit developers receiving public money accountable to the people who live in the place where they do business. They're built on the notion that major developments will not significantly help a community on their own. With new development often comes gentrification, and CBAs are also intended to slow or stop that process: the idea is that, through negotiations with community members, developers may commit to hiring Detroiters, or, in the case of residential developments, they may offer affordable housing.
Last year, the grassroots Equitable Detroit Coalition appeared on track to getting voter approval for a strong community benefits ordinance in Prop A, but as Election Day neared, a
corporate- and union-backed, watered-down alternative
to their proposal popped up and managed to eke out a win.
The coalition has since been closely monitoring the various non-binding community benefits agreements struck under the ordinance that passed — projects like the coming Midtown West, the Herman Kiefer redevelopment, and the coming Pistons practice facility — and on Thursday declared them "lip service."
"This is not an agreement, it's just a bureaucratic process. The community lists a bunch of things they want, the developers says, 'no, we can't do any of that stuff.'"

tweet this
"'Waste of time' is a very common refrain we hear from the community members who've participated in this process," said Detroit People's Platform member Amina Kirk. "Because this is not an agreement, it's just a bureaucratic process. The community lists a bunch of things they want, the developers says 'no, we can't do any of that stuff,' and there's no back and forth."
Other issues outlined by activists include a too-high threshold for CBAs (the ordinance only applies to projects expected to cost more than $75 million) and terms that are not legally binding and often vague. In the case of Herman Kiefer, for instance, developers said they "intend to create as many job opportunities as possible and hire as locally as possible."
The coalition is now calling for city council to take a look at the issue and amend what it calls a "defective" ordinance.
"With the passage of one year, we can now call on City Council members to do the right thing and make sure the families they serve can meet on a level playing field with developers that show up in their community with massive projects" said Rev. Joan Ross with the Store House of Hope. "It's a matter of basic rights and decency."
Community benefits laws are rare for major cities. Developers last year argued that the added requirements of Prop A would have made it too difficult to do business in Detroit.
You can read our past coverage on the issue
here
.