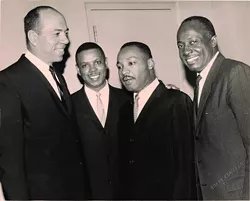 Long-serving federal Judge Damon Keith died on Sunday morning,
according to his family
. He was 96.
Born in Detroit on July 4, 1922, Keith fought in Europe in World War II, and later attended Howard University Law School in Washington, D.C. He earned a master's of law degree from Wayne State University Law School in 1956, and in 1967, he was appointed to the U.S. District Court for the Eastern District of Michigan by President Lyndon Johnson.
His first major case —
Davis v. School District of City of Pontiac
in 1970, in which he ordered Pontiac to desegregate its school district — came less than a year and a half into his job; the KKK retaliated with death threats and by firebombing 10 school buses. In perhaps his most famous ruling, 1971's pre-Watergate
United States v. Sinclair
, Keith ordered that president Richard Nixon and his attorney general John Mitchell violated the Fourth Amendment by wiretapping conversations of Detroit's radical White Panther Party without a warrant.
After the Sept. 11, 2001, terrorist attacks, the U.S. Justice Department began deporting Arab and Muslim immigrants in secret court proceedings, which
The Detroit Free Press
,
The Detroit News
, the ACLU, and U.S. Rep. John Conyers challenged in federal court, arguing it was a violation of the First Amendment to close immigration hearings to the public.
In his decision, Keith wrote that "Democracy dies in the dark." The phrase was later adopted by
The Washington Post
for use as its slogan, who tweaked it to
"Democracy Dies in Darkness"
in 2017.
You can learn more about that case
here
, and read our 2013 cover story on Keith
here
.
Stay on top of Detroit news and views. Sign up for our weekly issue newsletter delivered each Wednesday.