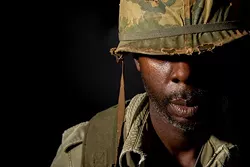 Ahead of Veterans Day this Saturday, personal finance website WalletHub
analyzed the best and worst
U.S. cities for veterans to live.
Out of the country's 100 most-populated cities, Detroit ranked dead last.
The analysts compared the cities across four dimensions — employment, economy, quality of life, and health. It then evaluated those dimensions across 17 metrics, such as educational opportunities and share of military skill-related jobs.
The study noted:
Where veterans live can contribute to the problem. Although unemployment and homelessness have declined nationally for this group, such issues are simply worse in certain parts of America. In addition, veterans in many cities continue to suffer from long delays in mental-health treatment despite a $10 billion effort to expand veterans' access to such care.
Detroit also ranked high on the list of cities with the most homeless veterans per veteran population, coming in at 89 — approximately 30 times more than the cities with the fewest homeless veterans.
Austin, Texas ranked as the best city for veterans, followed by Colorado Springs, Virginia Beach, Raleigh, and Plano.