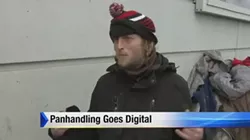 The internet is freaking out.
This week Detroit's WDIV did a segment on Abe Hagenston, a 42-year old man who panhandles on the corner of Woodward and 8 Mile. Blowing everyone's mind right now is the fact that Abe is sort homeless 2.0 — he will accept donations in a variety of forms including credit cards (VISA, MasterCard, American Express).
"Being homeless is my business now. My business is being homeless," Abe, who has a
personal website
where people can submit donations
told WDIV
. The site, which Abe created in October 2014, also advertises the fact that the spanging-entrepreneur — who has anointed himself Honest Abe — "Will Work." According to the segment Abe has been hired, via his website, to do odd jobs such as painting people's homes. He's even been able to get his "homeless friends" work through the site.
Abe used to be even more revolutionary. He had a square (costs about $10). His phone, however, was stolen. So today, the website (or the change you immediately have on you) is it re: donations.
"I've rebuilt my life a few times but this time I'm not getting it," Abe told the station. "People don't realize how tough it is to come from nothing when you don't have any family or any friends."
Abe, ever the technophile, has big dreams. One day he'd like to create an app to help people discern "fake" panhandlers. He also would like to create a non-profit to help make homeless millionaires.
You can watch the full interview with WDIV
here
.
You can watch a video Abe uploaded to YouTube in March, describing his business aspirations, below.
Or watch another interview with another crew of SF panhandlers who were using the square in 2011.
Everything starts in SF.